We all know Green Bay linebacker Clay Matthews III comes from a deep lineage of football success. His father, Clay Jr., was a 19-year linebacker in the NFL. His uncle, Bruce Matthews, also played 19 seasons as an offensive lineman and is a member of the Pro Football Hall of Fame.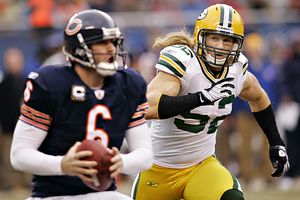 Rob Grabowski/US Presswire
Green Bay linebacker Clay Matthews added to his family's NFL history by making the Pro Bowl as a rookie.
But only one member of that trio managed a Pro Bowl berth as a rookie. Clay III was originally a first alternate and received an invitation to play after Chicago linebacker Lance Briggs bowed out.
"It means a great deal," Matthews said in a national conference call this week. "I'm very happy, fortunate and blessed to have made it in my rookie season. My dad and uncle were telling me, 'Man, it took me four and six years to make it, and you're already making it in your first year.' I definitely have big shoes to fill, but I'm looking forward to the opportunity and I think I'm off to a good start."
Indeed, Matthews set a Packers rookie record with 10 sacks this season after cracking the starting lineup in Week 4. His father played in a different era, including five seasons before sacks became an official NFL statistic, but it's worth noting that Clay Jr. only hit double digits in sacks for one season (12 in 1984). (For more, see Mike Spofford's piece over on Packers.com.)
"It's really about staying on top," Clay III said, "and that's what I look forward to doing -- just keeping it up and just trying to make plays from here on out."
Matthews will play a reserve role for the NFC in Sunday's game at Sun Life Stadium. I'll be there to chronicle his afternoon, along with that of the other 11 NFC North players expected to participate. Because of the recent rash of changes to the Pro Bowl roster, below is a list of NFC North players. As always, we're here to serve. Update: This list is now nine players.
Kick returner Johnny Knox
Quarterback Aaron Rodgers
Safety Nick Collins
Linebacker Clay Matthews
Running back Adrian Peterson
Wide receiver Sidney Rice
Left guard Steve Hutchinson
Left tackle Bryant McKinnie
Defensive end Jared Allen
Defensive tackle Kevin Williams
Special teams cover man Heath Farwell
Update: Rice and Williams declined their invitations Tuesday.