Entering the 2003 draft, Minnesota targeted Kevin Williams, a little-known defensive tackle from Oklahoma State. The team's decision-makers were convinced Williams would be an elite playmaker, and they were equally confident there were few other teams in the draft's top 10 who thought the same way.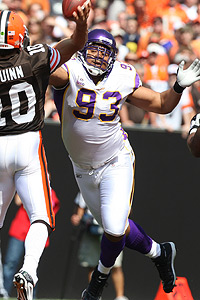 Matthew Emmons-US PRESSWIRE
The Vikings almost missed out on drafting Kevin Williams in the 2003 draft.The Vikings' master plan was to trade down from their No. 7 overall position and still snag Williams later in the first round. That was music to the ears of then-owner Red McCombs, who had placed severe financial restrains on a franchise he was hoping to sell. McCombs figured to save millions of dollars by trading down.
Trade discussions heated up as the Vikings' 15-minute window opened on draft day. Team officials were close to completing a trade with Baltimore, allowing them to move down two spots to No. 9 overall. The Ravens reportedly wanted to draft quarterback Byron Leftwich.
With about a minute left in the window, however, the Vikings still hadn't confirmed the trade. They had reported it to the appropriate league official but the Ravens had not, later saying the phone line had been busy.
Panicked, team officials wanted simply to draft Williams at No. 7 overall. But according to reports, a McCombs representative in the draft room ordered trade discussions to continue.
In the confusion, the Vikings' time expired. Jacksonville, holding the No. 8 pick, leapfrogged them to select Leftwich. Carolina jumped up and took tackle Jordan Gross before the Vikings finally nabbed Williams at No. 9.
The mistake could have been more damaging, but the Vikings had been correct: Neither the Jaguars nor the Panthers were interested in Williams.