I took the role of Tom Coughlin in this week's Inside Slant podcast,

while partner Mike Sando got all revolutionary in the Greg Schiano sense of the word. Our wide-ranging discussion not only hit the concept of NFL protocol, but it also included how best to approach two-point conversions and how the heck the Philadelphia Eagles are 2-0.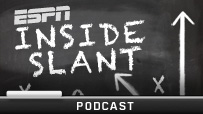 From an NFC North perspective, we noted how Sunday night's game at Candlestick Park provided a stark example of the elevated risk to player safety as long as the NFL uses replacement officials.
You might recall that Detroit Lions quarterback Matthew Stafford was sacked twice on one play because referee Matt Nicks didn't notice that Stafford's knee clearly hit the ground after getting hit by the San Francisco 49ers' Aldon Smith.
With no whistle blown, Stafford popped back up in one of those chaotic and unnatural situations that leaves a quarterback vulnerable to an unexpected hit. Ultimately, he was dragged down for a second time by the 49ers' Ray McDonald.
The Lions challenged the play and got back the additional yardage they lost between the first and second hits. But a referee is expected to protect the quarterback, not expose him to additional and unnecessary contact.
Related: I also jumped on ESPN Radio

earlier Wednesday to wrap up a week's worth of discussion about Chicago Bears quarterback Jay Cutler.