Tim Brown now claims he never intended to suggest that former Oakland Raiders coach Bill Callahan sabotaged the Super Bowl in 2002. But in this week's Inside Slant podcast

, Mike Sando and I discussed the impact of his original assertion and whether it will be used against him Feb. 2 when the Pro Football Hall of Fame selection committee assembles to elect the class of 2013.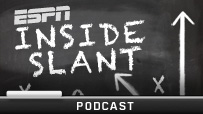 Could Brown have hurt his candidacy? Here's what one voter, Rick Gosselin of the Dallas Morning News, tweeted this week: "Blaming your head coach for a Super Bowl loss is no way to wage a Hall of Fame campaign. Poor timing, Tim Brown..."
Mike is a voter as well and offered his take in the podcast. You wonder if Brown could have effectively broken the three-way logjam of receivers -- himself, Cris Carter and Andre Reed -- by disqualifying himself for election this season. Mike and I were in agreement -- Brown's comments doesn't impact the quality of his playing career -- but you never know how a diverse group of people will react. Carter, the former Minnesota Vikings receiver, is in his sixth year of eligibility for the Hall of Fame.