ATLANTA -- As I look ahead to the start of the Falcons' minicamp Friday, I'm not seeing a lot of glaring questions.
That's a good thing. Aside from the draft and the signing of cornerback Dunta Robinson, the Falcons have had a peaceful and quiet offseason, on and off the field. They've focused on fixing some leaky areas of a team that went 9-7 despite plenty of injuries and bad luck last year. Their core is intact and getting healthy and the Falcons could be the top challengers to the New Orleans Saints in the NFC South.
But before they can truly fill that role, the Falcons have some questions to answer. Here's a look at five things I'll be watching in minicamp.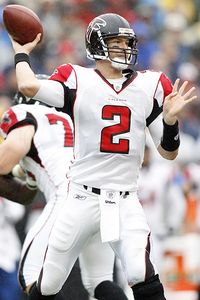 Greg M. Cooper/US Presswire
Will Falcons quarterback Matt Ryan improve in his third season?Is Matt Ryan ready for the next step? A lot of people say he had a sophomore slump. I wouldn't say that. He had a decent year, but his own toe injury and Michael Turner's ankle problems made last season difficult. Ryan's healthy now and the Falcons have to build this offense around him. Turner and the running game are hugely important, but the Falcons need to take the shackles off Ryan a bit and let him reach greatness. The return of receiver Harry Douglas from injury should give Ryan another target and another dimension (think speed) to the offense.
Is the secondary fixed? The Falcons signed Robinson and re-signed Brian Williams. They've also got safety William Moore coming back from injury. That should be enough to improve a group that took a lot of heat last year. Robinson slides in at one cornerback spot and Williams will compete with Christopher Owens, Chevis Jackson and Brent Grimes for the other. That's not a bad collection of cornerbacks. Thomas DeCoud played well in his first season as a starter at safety, but Erik Coleman didn't have a great year. Moore will be given every opportunity to beat out Coleman. On paper, this secondary looks good. But it could be a lot better if the Falcons can find a pass rush.
Where's the pass rush going to come from? Atlanta's coaches and front office will tell you the lack of a pass rush was the biggest problem for the defense last year. It's good that's recognized, but the Falcons haven't made any dramatic moves up front. They're hoping the return of defensive tackle Peria Jerry from injury can create a surge in the middle and help everyone else. But it's pretty obvious the Falcons are counting on veteran John Abraham to bounce back from a quiet season and young defensive ends Kroy Biermann and Lawrence Sidbury to really step up.
Where does top draft pick Sean Weatherspoon fit? That's something I'm curious to see in minicamp. The Falcons have quality starting linebackers in Curtis Lofton, Mike Peterson and Stephan Nicholas. Lofton's not going anywhere and you don't draft a guy in the first round to sit him on the bench. Weatherspoon's going to get his shot at one of the outside spots. Peterson is getting older on the weak side and Weatherspoon might be his replacement. Nicholas had a decent season last year in his first season as a starter, but the Falcons could try Weatherspoon on the strong side and hope he's more of a playmaker.
Who's the kicker? This was a big issue last year and the Falcons finally parted ways with veteran Jason Elam after he lost his consistency. Atlanta believes it has the answer in veteran Matt Bryant, who joined the team late last year. Bryant used to be one of the league's more reliable kickers. But his career got thrown off track in Tampa Bay by injuries and a family tragedy. The Falcons believe Bryant is healthy and ready to get back to being the kind of reliable kicker he once was.