A player, coach or issue that should be on your radar as training camp approaches.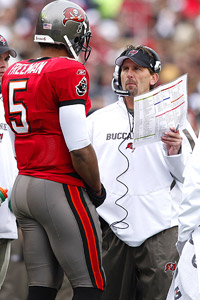 Joe Robbins/Getty Images
Greg Olson has a full offseason as the Buccaneers' offensive coordinator under his belt.Unlike last year, the Tampa Bay Buccaneers are going through the entire offseason with the man who will be their offensive coordinator already in place. They didn't have that luxury last year and it led to a season absolute chaos on offense.
Jeff Jagodzinski, the initial coordinator hired by Raheem Morris, was fired about 10 days before the start of the season. It later came out the move was made because the offense was too simple and not capable of competing against NFL defenses.
Quarterbacks coach Greg Olson got thrown into the coordinator's job immediately before the start of the season. That gave him a whole bunch of jobs in addition to getting rookie quarterback Josh Freeman ready to hit the field and trying to add a little sophistication to the playbook.
Olson's now going through a full offseason as the coordinator and you should see his system start to take hold. You could see the Bucs get better offensively as last season went on. In particular, Freeman showed promise.
The Bucs believe their offense should be much better now that Olson is firmly running the show. He still will play a big role in Freeman's development, but the Bucs freed Olson up to focus on the entire offense by hiring Alex Van Pelt as quarterbacks coach.