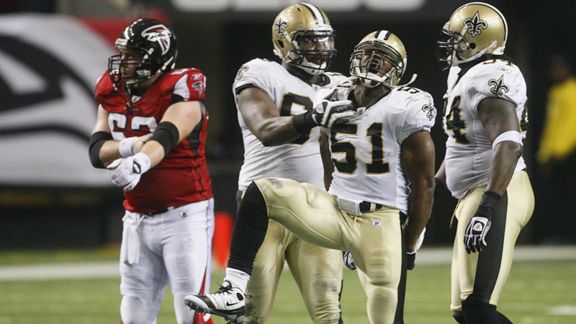 AP Photo/John Bazemore
Saints middle linebacker Jonathan Vilma (51) knew exactly what was coming when he stopped the Falcons' final drive in a 26-23 victory.ATLANTA -- For all those nervous New Orleans Saints fans out there, Jonathan Vilma has a question.
"Why would you be concerned?'' the Saints' middle linebacker said Sunday after New Orleans defeated Atlanta 26-23.
Yes, the Saints had another one of those games where an inferior team stayed close for way too long. Just like in Washington last week, the Saints didn't have the game won until the very end. That's all that really matters. When it has mattered most, the Saints have always had the answers.
On Sunday, that was because Vilma had a cheat sheet. He made two of the biggest plays of the season in the final few minutes because he knew exactly what was coming.
That pass Vilma intercepted with 3:53 left in the game? The Falcons ran the play earlier and as soon as Vilma saw the formation, he knew Chris Redman would be throwing to Roddy White. When he saw Atlanta's receivers all bunched on one side and Jason Snelling coming in motion, Vilma dropped into coverage on White.
That tackle Vilma made to end Atlanta's last drive with 1:12 remaining? Same thing. Vilma knew exactly what play was coming. The Falcons needed two yards to get a first down and they threw a short pass to Snelling. It was the same play that went for 38 yards on the game's opening drive. This time, Vilma made sure it went for only one yard and the game was over.
"We all knew it was coming because of the formation,'' cornerback Randall Gay said. "Jon stepped up and made the play. If Jon's not there, [Snelling] doesn't go any further because I came off my man and was right there and other guys did the same thing.''
So, seriously, why should there be concern when the Saints knew they had the game all along? Vilma answered his question with those two plays and in his postgame interview.
"We're 13-0 and we have a first-round bye in the playoffs,'' Vilma said.
Confidence is a great thing and it's probably a big reason the Saints are where they are. Take another win that might have involved some luck, add it to your record and forget that there were some pretty major flaws. It's a healthy attitude in a lot of ways and the Saints don't need to be freaking out about a few little things.
But if they want to go 16-0 in the regular season and go on to win the Super Bowl, it might be wise to look at what has happened the past two weeks and change some things. Otherwise, one of those little things could come back to bite the Saints in a big way.
When you're making Redman and Jason Campbell look like superstar quarterbacks in back-to-back weeks, what's going to happen when you face, say, a Brett Favre or Kurt Warner in the playoffs? Or what's going to happen when you're not facing a dysfunctional Washington team or an Atlanta team that was banged up beyond belief?
Well, we're about to find out. The Saints play host to the Dallas Cowboys on Saturday night and, really, that's the only obstacle between them and 16-0 because they've got Tampa Bay and Carolina in the final two weeks.
The Saints have been good, but they've also been very lucky. Atlanta played as good a game as it possibly could have and lost. Imagine what might have happened if Matt Ryan, Michael Turner and Chris Houston had played and the offensive line had been even close to healthy.
The Saints have to fix what's wrong with their secondary and they have to do it very soon. Redman's got no business throwing for 303 yards against any team. The Saints have been going with Gay, Malcolm Jenkins and Mike McKenzie as their top three cornerbacks the past few weeks and the defense hasn't been nearly as good as it was earlier in the season.
That's mostly because Jenkins is a rookie, McKenzie is old and was out of football until the Saints got desperate a few weeks ago and Gay is fine as a nickel back, but he shouldn't be the best corner you have.
There's a solution for this. The Saints have to get starting cornerbacks Jabari Greer and Tracy Porter back on the field in time for the playoffs, and it wouldn't hurt to have linebacker Scott Fujita out there as well. The Saints have struggled defensively since those three went out.
The Saints, like a lot of teams, are guarded with information about injuries, but it's pretty obvious they believe the injured starters can return by playoff time or they would already have put them on the injured-reserve list and finished their seasons.
Maybe all three come back and the Saints get back to playing defense as they did early in the season. But the defensive play isn't the only thing that needs to improve before they get to the postseason.
Sean Payton's a great offensive mind, but sometimes he thinks a little too much. That side of him surfaced when he tried a fake field goal late in the game against Atlanta and it didn't work. Payton got a little lucky because Vilma and the defense, after struggling all day, stepped up and bailed him out.
Because the Saints won, the fake field goal is forgotten and, to a lesser degree, the Saints can shrug off the struggles of the secondary.
For now, anyway. No team can be perfect in every game. But the Saints have a perfect record. Odds are, they finish 16-0.
That's great, but maybe all those concerned fans have a good point when they expect perfection. If you truly are going to have a perfect season, you need to be playing well in December, so you can play very well in January and February.
Maybe it's not a bad thing that fans are picking apart the Saints right now. It would be better to recognize the areas of concern now. If not, the Saints still could go undefeated in the regular season, but get picked apart in the playoffs.