Five nuggets of knowledge about Week 15:
Falcons rooting for the Saints. There's irony in this on many levels, but the Atlanta Falcons have to root for the New Orleans Saints on Saturday night. If the Saints lose to the Cowboys, Atlanta's playoff hopes are officially over. If New Orleans wins, the Falcons go into Sunday's game at least mathematically still in the playoff race.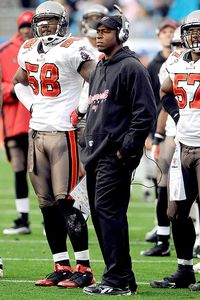 Sam Sharpe-US PRESSWIRE
A win over Seattle could help Bucs coach Raheem Morris keep his job.
Still hope for Morris. As bad as this season has been for the Bucs, I think Raheem Morris can do wonders for his job security if his team plays well in Seattle. Going across the country is difficult for any team and a win might show some signs of hope. If the Bucs play as if they've got nothing to lose, which they don't, then Morris might have a lot to gain out of a game with the Seahawks that otherwise seems meaningless.
Christmas shopping for Roy. In Friday's NFC South chat, one of the readers asked if I was going to wear ear plugs in the Superdome on Saturday night. Not a bad idea, and I'm going to shop around to see if I can find some. In fact, I'm going to buy a second pair. Think I might be able to turn around and sell them to Dallas' Roy Williams, who is probably going to hear plenty from New Orleans fans about the shots he took at the Saints earlier this week.
What to do about Delhomme? Matt Moore will get his third straight start against the Vikings. That's no surprise because Jake Delhomme's broken finger is still healing. But I'm curious to see what the Panthers do if Delhomme is ready to play the final two games. Do they stick with Moore, who hasn't been bad? Or do they turn back to Delhomme, who's had a miserable year and probably has no future as a starter after this season?
Where's the pass rush? We've all been harping on Atlanta's cornerbacks this season. That's not off target. But let's look at the bigger picture and toss some of that blame on the pass rush -– or the lack of one. Whatever happened to John Abraham? And why did we all buy into Kroy Biermann so hard after he got off to a decent start? Yes, the Falcons need to make some moves at cornerback in the offseason. But if some sort of pass rush doesn't surface in these last few weeks, we also could be looking at a lot of new faces on the defensive line.