Posted by ESPN.com's Pat Yasinskas
ESPN's Mel Kiper has unveiled his latest mock draft. There's plenty of logic in his picks, which speak for themselves.
Mel may be right on all three first-round picks for the NFC South teams. But I see some alternatives for all three picks. I still think the Saints will go defense, possibly with defensive backs Malcolm Jenkins or Vontae Davis at No. 14.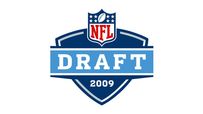 Mel's been consistent with quarterback Josh Freeman to the Bucs and that could happen. But I think the Bucs may go wide receiver (Darrius Heyward-Bey), defensive tackle (Peria Jerry) or cornerback (Jenkins or Davis, if available) at No. 19.
Mel lines up the Falcons with Brandon Pettigrew at No. 24. That wouldn't surprise me, but I still think the Falcons go with a linebacker, defensive end, defensive tackle or defensive back here.
Anyway, here are Mel's picks for the first four rounds for NFC South teams:
SAINTS
1: 14, Chris "Beanie" Wells, RB, Ohio State
4: 116, Tyrone McKenzie, LB, South Florida
4: 118, A.Q. Shipley, C, Penn State
BUCCANEERS
1: 19, Josh Freeman, QB, Kansas State
3: 81, Alex Magee, DT, Purdue
3: 90, Antoine Caldwell, C, Alabama
4: 120, Austin Collie, WR, BYU
FALCONS
1: 24, Brandon Pettigrew, TE, Oklahoma State
2: 55, Sherrod Martin, DB, Troy
4: 125, Brandon Gibson, WR, Washington State
PANTHERS
2: 59, Roy Miller, DT, Texas
3: 93, Kraig Urbik, G, Wisconsin
4: 128, Mike Wallace, WR, Mississippi