SEATTLE -- Mike Holmgren made the Seattle Seahawks relevant.
They could not have been less relevant Sunday.
While the division-rival Arizona Cardinals and San Francisco 49ers fought for potential playoff spots, the Seahawks were losing, at home, to the previously 1-12 Tampa Bay Bucs.
They needed 22 minutes of game clock to break a scoreless tie.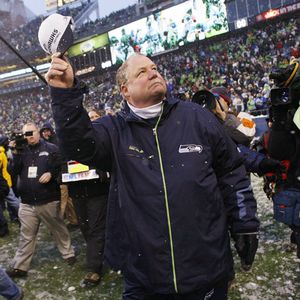 AP Photo/John Froschauer
The inability to reach a deal exposed the issues in the relationship between Mike Holmgren and the Seahawks.On the surface, welcoming back Holmgren to lead the team's football operation shouldn't have taken half that long once the Seahawks decided they wanted him. Their inability to reach an agreement starts to make sense in the broader context of an imperfect relationship between Holmgren and the organization.
Holmgren, never shy about creating a market for his services, had been outspoken about his desire to return. The Seahawks made their interest less clear publicly until Saturday, when they offered him control of football operations.
"After a series of respectful discussions, Mike has declined our offer to rejoin the team given the structure we proposed," a statement from CEO Tod Leiweke read.
Something did not compute.
Were the Seahawks legitimately interested in hiring Holmgren, or did they simply want the public to think they were interested?
Was Holmgren legitimately interested in rejoining the Seahawks, or was he using them to drive up the price in Cleveland while punishing Seattle for failing to court him more aggressively (not just this time, but when he was waffling on his future as head coach a few years ago)?
People as sharp and amicable toward one another as Holmgren and Leiweke should have been able to reach accord if all parties had the same goal in mind.
My theory: The Seahawks wanted more time to make a decision on their leadership. Holmgren accelerated the timetable by cozying up to Cleveland and suggesting he might accept the Browns' offer soon. The Seahawks then made an honest effort to hire Holmgren to run their football operations, but they were not going to give him a blank check. The salary Seattle offered Holmgren might have told him the job wasn't quite what he hoped it would be.
Holmgren was reportedly earning $8 million per year late in his tenure as Seahawks head coach. Bill Parcells reportedly earns $4 million per year for running the Miami Dolphins. The Seahawks were most likely offering something closer to Parcells money. A salary in that range would line up with Leiweke's statements about how the team's next general manager would fit into the hierarchy.
"We're going to find somebody that, we're not going to join them, they're going to join us," Leiweke said when announcing Tim Ruskell's resignation as GM less than three weeks ago.
The statement made it sound as though the Seahawks weren't interested in resurrecting the "Big Show" persona Holmgren created during his first run as Seattle's GM from 1999 through the 2002 season. Holmgren was bigger than the team back then.
"We've really become, in many ways, a pretty good organization," Leiweke said Dec. 3. "I don't think this is a franchise that has to go out and beg someone to come here.
"So, we're going to find somebody who fits our prerequisite model of what we see as success going forward. We're going to be thoughtful. We've got time."
Holmgren didn't give them as much time as they wanted.
Still, this should have gotten done if each side liked the other enough to be flexible.
The failure to agree exposed imperfections in the relationship between the Seahawks and their former coach.
The dynamic changed when the Seahawks stripped Holmgren of his GM title after the 2002 season.
When the 2004 season ended, Holmgren met privately with Seahawks owner Paul Allen, threatening to resign if Bob Whitsitt remained team president. The situation had become that untenable, Holmgren told Allen.
The gambit worked. Allen fired Whitsitt.
Holmgren was happy again, but he could not be satisfied without the one thing he wanted from Seattle in the first place -- full control of personnel.
By spring 2006, Holmgren was contemplating whether to walk away from coaching. The Seahawks, instead of begging Holmgren to stay, gave him time to think it over.
Holmgren signed a two-year extension. Instead of pushing hard for him to stay longer, the Seahawks worked in advance to line up Jim Mora as Holmgren's eventual successor.
When the Seahawks struggled this season and Ruskell's job status became a primary issue, Holmgren made it clear through interviews that he would love to get back into NFL -- in Seattle, if the situation were right.
The Seahawks played it cool publicly, declining to discuss the possibility. Again, they weren't rushing out to embrace Holmgren. This surely bothered the most successful coach in franchise history.
"As we are getting down to the last two weeks of the season, maybe I was hoping for a few more positive signs, but no, nothing specific," Holmgren told Seattle's KJR radio Friday.
Only then did the Seahawks, mindful of perceptions and the Browns' offer, decide to pursue Holmgren with urgency.
Holmgren finally made the Seahawks want him again.
Perhaps that was enough.