RENTON, Wash. -- Thoughts and observations from the Seahawks' news conference to introduce new general manager John Schneider, hired away from the Packers: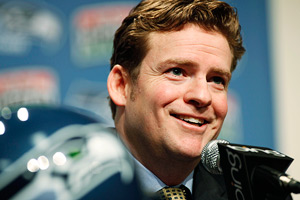 AP Photo/John Froschauer
John Schneider was introduced as the new Seahawks general manager Wednesday.
This is all about fit. Specifically, it's about Schneider fitting with coach Pete Carroll and helping to find players that fit precisely what Carroll wants. The Seahawks didn't do this as well in recent seasons when former GM Tim Ruskell was identifying players to fit his long-range plans while the team tried to win with Mike Holmgren's offense. Seattle should get more from its personnel this way.

Carroll holds the authority over personnel, CEO Tod Leiweke said, noting that Carroll would win any coin tosses. Schneider then said he would never try to cram a certain player into his head coach's roster, regardless of who had ultimate control of personnel. The structure arguably makes Schneider a better candidate than GM finalist Floyd Reese, who is older and more established in his ways. I got the sense Schneider and Carroll would work well together. It's in Schneider's nature to make this work. I sense he's a pure personnel guy, not someone who cares about getting the credit.

The Seahawks will not be making sweeping changes to their front office or scouting staff. Schneider knows quite a few of the people already in place. Ruston Webster, John Idzik and Will Lewis will remain with the organization, Leiweke indicated. Lewis and Schneider worked together in Seattle previously. The team's salary cap and contract negotiating arm -- headed by Idzik -- will report to Schneider. Carroll wants to pick players, but he doesn't want to be a GM or cap guy.

The Seahawks will become younger not by design but through an effort to encourage competition. The Packers have been one of the NFL's two youngest teams (along with the Colts) in recent seasons. Carroll was opposed to playing rookies during his past incarnation as a head coach. His outlook changed after coaching in college (Carroll compared that experience to being coach and GM, with the GM part changing his view). Personnel guys love to play young players. Seattle was the NFL's eighth-oldest team this week, not counting players signed to future contracts. That ranking will fall, no doubt.

The Seahawks are better off now than they were a few weeks ago. I do think the front office has a better chance to function without the infighting and competing agendas that marked previous regimes in recent seasons. That can help the Seahawks regain credibility lost over the last couple seasons.

Carroll addressed a few hires relating to his coaching staff. Jeremy Bates (offensive coordinator), Alex Gibbs (offensive line), Jedd Fisch (quarterbacks), Pat McPherson (tight ends), Gus Bradley (defensive coordinator), Dan Quinn (defensive line), Jerry Gray (secondary), Ken Norton Jr. (linebackers) and Brian Schneider (special teams) are in place.

The Seahawks are weighing the possibility of trying a 3-4 defensive alignment, but it's early.
Those were a few highlights. Heading home now.