INDIANAPOLIS -- Not to heap any additional pressure upon general manager Billy Devaney and the rest of the Rams' decision makers, but let's be honest here.
The decision St. Louis makes with the first choice in the 2010 NFL draft could very well determine whether the Rams' current leadership survives for the long term, particularly with a new ownership group itching to take control of the franchise.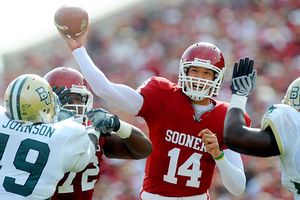 Jerry Laizure-US PRESSWIRE
Is Sam Bradford to the Rams a done deal?Devaney knows this better than most. He was with the Chargers in 1998 when the team drafted Ryan Leaf second overall. That disastrous decision precipitated an organizational overhaul while altering careers forever.
Devaney, available to reporters at the NFL combine Friday, learned a valuable lesson. He stressed "intangibles" as the key variable in evaluating quarterbacks. And he acknowledged the team would have to strongly consider drafting one first overall.
So, while most scouts seem to rank defensive tackles Ndamukong Suh and Gerald McCoy as the best players available in this draft, the Rams will have to consider what a top quarterback would mean for their organization.
"That is what we are trying to figure out right now," Devaney said.
Our own John Clayton and Adam Schefter are pointing to Bradford as the most likely choice for the Rams. Clayton predicted Bradford to the Rams in a recent column pointing to economic realities. Schefter, appearing on 101ESPN St. Louis, all but guaranteed it.
Neither is saying the Rams have already made a decision. And Devaney seemed to labor just sorting through the possibilities and implications. But it is possible and perhaps even likely the process will take the Rams to Bradford between now and the draft. Teams do value quarterbacks and most scouts seem to think Bradford will emerge as the best one in this draft.
As much as the Rams need a quarterback, they could still wind up taking Suh or McCoy. I wouldn't read much into the fact that the organization has drafted quite a few defensive linemen in recent years. Devaney and coach Steve Spagnuolo weren't the ones who made most of those decisions. As Devaney cracked Friday, "We should have a helluva defensive line" based on all the draft capital allocated for the position.
"You can't force the issue," Devaney said of drafting a quarterback. "I know what you're saying. At some point we need to address the quarterback situation."
Devaney then provided an overview of that situation, noting that Marc Bulger remained on the roster and the team would consider its options in free agency as well. Later, he said the Rams probably wouldn't move a rookie quarterback into the starting lineup right away.
"If it gets down to that we think that the defensive tackles, these two kids are far and away the best players and they are the highest-rated players in the draft, you can't force and say, 'Hey, we have to get a quarterback' and drop way down on your value," Devaney said.
Devaney also pointed out that Spagnuolo, a former defensive coordinator, certainly wouldn't protest if the team strengthened its defensive line at the top of the draft.
"You had better grab onto them and grab onto them early," Devaney said of elite defensive tackles.
The Rams are very much interested in evaluating Bradford at his pro day workout in March. Drafting him first overall would be a tougher call, Devaney allowed, if Bradford's shoulder injury prevented him from performing at a high level in workouts before the draft.
Bradford's agent, Tom Condon, informed teams last week that his client would not be working out at the combine. Devaney then called Condon to acknowledge receipt and find out where Bradford stood in his rehabilitation.
"It sounds like he is throwing about 50 balls a day between 20 and 40 yards, but I don't know what that means," Devaney said. "Is that soft tossing or is he ripping the ball? I don't know that, but it sounds like he is throwing a lot of balls."
The other top quarterbacks in the draft, Notre Dame's Jimmy Clausen and Texas' Colt McCoy, also have had some injury concerns. Devaney lauded Clausen's accuracy and said the Rams would use his personal workout to gauge arm strength.
"The other stuff -- the athletic ability, the knowledge, he has really good temperament -- we're fine with all that," Devaney said.
By the time Devaney had finished fielding questions, he had covered all the likely possibilities without committing to any of them.
The smoke is still building, in other words, and it won't clear for some time.