Posted by ESPN.com's Mike Sando
Our look at the Cardinals' potential options in the first round of the upcoming draft featured input from Matt Williamson of Scouts Inc. Matt offered quite a bit more insight during our recent conversation. I wanted to share more of his Cardinals-related analysis here.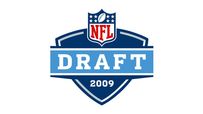 On the running backs: "I think Tim Hightower is a backup at best. Same with Edge [Edgerrin James]. And neither gives you something on special teams. Players like that are a dime a dozen.
"If you look around the league, how many teams are going to pull the trigger on a first-round running back? If you are Chris Wells or Knowshon Moreno or LeSean McCoy or Donald Brown, two or three are going to be unhappy with where they go and Arizona could benefit from that."
On the Cardinals' defense: "They need a body on defense. I really like the addition of Bryant McFadden. I think their secondary is on the verge of being one of the better in the league. Dominique Rodgers-Cromartie is on the verge of becoming a top-notch No. 1 corner. Antrel Rolle will only improve. Karlos Dansby is not going anywhere. Darnell Dockett is good.
"They want to go more 3-4 and have those two sloppy Michigan nose tackles [Alan Branch and Gabe Watson]. That holds them back a little bit. You need to be better on the nose. They are lucky in the division not to get exposed at the nose. If they tried to play the Steelers and Ravens twice a year against that type of personnel, they would have problems.
"I think they are going to try to drift more and more that way. With their Steeler roots, they know what it takes. They would love to get a Casey Hampton-type guy. Ron Brace is an longer-shot guy for them late in the first. If Larry English was there from Northern Illinois, he might be hard to pass up. That might make up a little bit for the Antonio Smith loss.
"If they could find a defensive end to rotate in and out, that would be helpful. Smith will be great at that in Houston. He is a strongside end and he can shift inside on throwing downs. They do not have somebody along those lines. That is a hard thing to find."
Though James doesn't figure into the Cardinals' plans at running back, he does have some value -- something I recently discussed with Jeremy Green, also of Scouts Inc. I'll dive into that analysis at some point in the not-too-distant future.