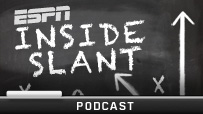 The Dez Bryant rules were in effect when Kevin Seifert and I convened for our latest "Inside Slant" podcast.
No drinking or strip clubs for us.
We did drop quite a few names during this edition, including Bryant's, before settling on a couple items with NFC West tie-ins.
Russell Wilson's emergence as the Seattle Seahawks' starting quarterback was one. Impending matchups between Calvin Johnson and NFC West cornerbacks was another.
You'll find the audio here.
Customer reviews encouraged.