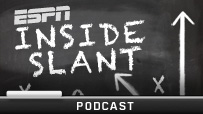 Kevin Seifert and I discussed an Actual Football Game (AFG) during our latest Inside Slant podcast. How refreshing.
That's right, the 2012 NFL offseason has about ended.
Kevin and I were eager to discuss the San Francisco 49ers' game at Green Bay in Week 1. The 49ers have to like certain matchups against the Packers' offensive line, but nothing much has fazed Aaron Rodgers lately.
From there, we transitioned into Rodgers' comments on replacement officials -- specifically, how they could affect games in ways most would not notice. We covered MVP candidates, running back values and more. Hope you enjoy.