Sam Bradford, Alex Smith, Colin Kaepernick and ESPN's recent package breaking down home-field advantages gave Kevin Seifert and I material for the latest "Inside Slant" podcast.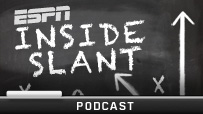 Seattle's CenturyLink Field figured prominently into the home-field package. On thing I didn't know, according to ESPN's Greg Garber: The Seahawks' stadium is built on the smallest stadium footprint in the NFL: about 900,000 square feet. More screaming voices in a smaller area would seem to promote noise.
Kevin and I discussed how teams have to be good enough to make home-field advantage relevant. Seattle went 2-6 at home and 2-6 on the road in 2008, for example. Improved talent has made the home edge a factor again.
2002-present NFL Home-Road Disparities