Time was on Mike Holmgren's side in Green Bay and Seattle.
Not so in Cleveland, where the former Seahawks and Packers coach has gone from near-autonomy to apparent retirement following sale of the Browns. Holmgren has coveted power and usually commanded lots of it since leaving Green Bay following the 1998 season. In Cleveland, he was arguably the NFL's second-most powerful team executive without an ownership stake, but as recent events demonstrated, there's only one true owner, and that's the actual one.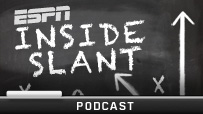 The situation in Green Bay is different. There's no singular owner. That gives Packers general manager Ted Thompson more direct control over football operations than any non-owner in the league commands. The pull for control over football operations drew Holmgren away from the Packers. But no place allows one man more power than Green Bay.
I was struck Tuesday upon learning that the Browns' 2012 draft class had already logged 1,765 offensive and defensive snaps this season, 602 more than any other team's drafted rookies have logged. Seattle (1,092 snaps) and St. Louis (988) are also relying heavily on their rookie draft choices, but they're also winning games. The Browns weren't winning enough and they were going to need time, especially given the offensive scheme Holmgren and the Browns prefer.
That was one of the subjects Kevin Seifert and I discussed during our latest "Inside Slant" podcast Wednesday. We also covered Jim Harbaugh and the Arizona Cardinals -- two separate subjects there -- as well as the coordinator change in Philadelphia. NFC West teams haven't made an in-season coordinator change since the San Francisco 49ers fired Jimmy Raye three games into the 2010 season. That seems like five years ago.
Big thanks go to Hank Gargiulo of ESPN Stats & Information for helping with the snap-count info. The chart ranks 2012 draft classes by most offensive and defensive snaps through Week 6.
2012 NFL Draft Classes: Most Offensive/Defensive Snaps (no special teams)