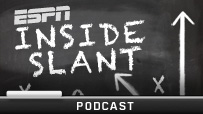 NFC West teams have made a few bold moves, for better and worse.
Arizona trading for Kevin Kolb was one. Seattle letting rookie quarterback Russell Wilson compete for a starting job was another. St. Louis trading the second overall choice to Washington was one more
Kevin Seifert and I used our latest "Inside Slant" podcast to assess bold moves shaping the 2012 NFL season. We also anticipated moves that could await in 2013.
NFC West teams came up more than once, including when we discussed a potential course of action regarding Kolb, but the focus was on the league overall. Jay Cutler, Brandon Marshall, Ben Roethlisberger and a couple of coaching staffs also came into focus.
We also referenced MVP odds for this season. Thanks to Jimmy Shapiro of Zucker Media Group for passing along from Bovada sports books the latest figures. Current odds include: Peyton Manning 2-1, Matt Ryan 3-1, Alex Smith 50-1 and Marshawn Lynch 50-1.
Hope you enjoy the show.