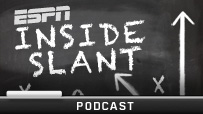 The Arizona Cardinals, though struggling of late, have often been at their best on fourth down. The Cardinals rank first in win probability added and sixth in expected points added through fourth-down plays, according to ESPN Stats & Information.
For those unsure of the metrics, a few bullet points of explanation:
Quarterback Kevin Kolb's 15-yard touchdown pass to Andre Roberts on fourth-and-10 against the Miami Dolphins helped force overtime.

Fullback Anthony Sherman forced a fumble the Cardinals recovered following a 58-yard punt against Philadelphia on another fourth-down play.

John Skelton's 37-yard strike to Michael Floyd at Green Bay came on fourth-and-6.

Against Buffalo, the Cardinals' Rashad Johnson took a direct snap on a fake punt, running 24 yards on a fourth-and-2.

Etc.
Desperation or trickery fueled most of these plays. The time is coming in the NFL when teams act more aggressively on fourth down because they're playing the percentages, not just because desperate times call for desperate measures. Tim Livingston recently promoted the idea, suggesting Oregon coach Chip Kelly might be just the man to lead a modernization of NFL strategy.
Kevin Seifert and I picked up the discussion during our latest "Inside Slant" podcast. We also discussed evolving thoughts regarding concussions while two of the teams we cover, San Francisco and Chicago, head toward a "Monday Night Football" matchup amid uncertainty regarding their quarterbacks' availability. San Francisco 49ers owner John York and Seattle Seahawks team physician Stan Herring came up during our conversation, as did the St. Louis Rams' defense.