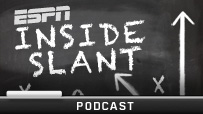 Andy Reid's emergence as a head coaching candidate for the Arizona Cardinals has driven much of the conversation around here recently.
Kevin Seifert and I assessed the Cardinals' coaching vacancy and all the others from a candidate's perspective during the latest "Inside Slant" podcast

on ESPN.com.
We broke down rosters by age and quarterback strength. We considered where teams were drafting. We looked at factors such as ownership.
I noticed that Arizona and Cleveland are tied for last in the NFL with four players apiece voted to the Pro Bowl at least once in their careers. San Francisco leads the league with 17. Seattle and Houston are tied for fourth with 12 apiece. St. Louis has five.
Larry Fitzgerald, Patrick Peterson, Darnell Dockett and Adrian Wilson are the only Cardinals with Pro Bowls on their résumés. Calais Campbell and Daryl Washington have played at that level without earning recognition to this point. I'll assume most teams have players in similar situations.
Throw in a rough situation at quarterback and the Arizona job ranks ... where?