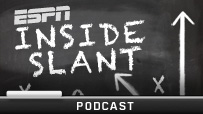 Six of the eight remaining playoff teams made bold, unconventional moves on their way to the postseason. Colin Kaepernick and Russell Wilson provide proof right here in the NFC West. Wilson, the Seattle Seahawks' rookie quarterback, faces in the NFC divisional round an Atlanta Falcons defense led by coordinator Mike Nolan, himself the product of an unconventional move to fire key assistants following a mostly successful season.
Kevin Seifert and I discussed these and other bold NFL moves during the "Inside Slant" podcast

Wednesday on ESPN.com. We spoke at length about Kaepernick as a followup to our earlier "Double Coverage" discussion. It's been interesting, from my perspective, to hear reaction from the earlier piece demonstrating how Kaepernick has been playing as well as Aaron Rodgers over the past seven weeks -- as if comparing anyone to Rodgers equates to blasphemy. Sorry, no sacred QBs here.