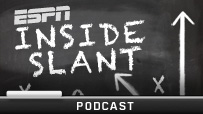 Gone are the days when offensive linemen weighed less than 250 pounds, fullbacks led their teams in rushing and some of the best quarterbacks compiled NFL passer ratings in the 70s.
At some point in the future, I suspect we'll marvel at how the NFL relied upon insurance agents, school administrators and ad salesmen to officiate Super Bowls. And if dual-threat quarterbacks continue to proliferate, some might discount the achievements of great pocket passers by calling them one-dimensional.
Kevin Seifert and I analyzed related subjects during the latest "Inside Slant" podcast

while putting into context the emergence of read-option plays and their sustainability. We humbly invite you to listen in.
Also in this podcast, we addressed trends in the hiring of head coaches. NFL teams fired eight of them this offseason. Six of the eight had offensive backgrounds. The league was not trending away from offense, of course. The first six replacements hired trace their coaching backgrounds to offense. Eleven of the 15 most recently hired head coaches came from the offensive side.
Some of the highest-scoring teams have defensive-minded head coaches, of course. There are some structural advantages to having an offensive-minded head coach, however.
The chart shows 17 of the current 30 head coaches having offensive backgrounds. Baltimore's John Harbaugh was a special-teams coach when the Ravens hired him. He also coached the secondary, so counting him among defensive-minded coaches would be reasonable.
2013 Head Coaches by Background