Tim Brown's inflammatory comments toward former Oakland Raiders coach Bill Callahan provided the launching point for the latest "Inside Slant" podcast

with Kevin Seifert.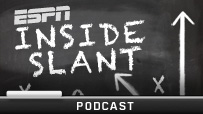 It's not every day a Hall of Fame finalist -- Brown, not Seifert -- suggests his former coach blew a shot at the Super Bowl by changing the game plan, perhaps out of hatred for his own team.
Brown has since backed away from the word "sabotage" when describing Callahan's alleged plan to ditch a run-heavy game plan.
Kevin and I discussed potential ramifications for Brown in Hall of Fame voting. That included a run through the 15 modern-era finalists and which ones might stand out as most deserving. Brown's comments regarding Callahan have no bearing on his credentials, according to Hall bylaws.
I also used the opportunity to revisit run-pass ratios for the Raiders against Tampa Bay during the Super Bowl in question. Turns out Oakland was even more pass-happy during the first half of its game against Tennessee for the AFC title.
The Raiders attempted passes on 56.7 percent of first-half plays against the Buccaneers. That was below their season average (62.3) and their sixth-lowest rate in 19 games that season. I singled out first halves because score differential tends to influence play selection later in games.
The rate of pass drop backs, which includes sacks, was at 66.7 in the first half for that game. It was higher for the Raiders in 10 games and lower in eight games before that Super Bowl.
Oakland's full-game rate of pass drop backs was at 81.7 percent for the Super Bowl, a season high. The Raiders' 17-point halftime deficit was also a season high by six points, putting Oakland in obvious passing situations while playing from behind.