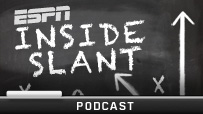 Passing along: a link to the Inside Slant podcast

Kevin Seifert and I put together Wednesday.
We discussed the difference between obvious draft needs and strategic ones -- those showing up a year or two down the road. We called upon examples in Detroit, Green Bay, New England, Seattle and elsewhere.