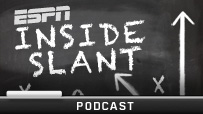 After appearing on MVP Watch and before visiting the Seattle Seahawks in Week 9, Adrian Peterson dominated much of the "Inside Slant" podcast discussion Wednesday.
The Minnesota Vikings running back is challenging what we've thought about serious knee injuries by disregarding standard timetables for rehabilitation.
Peyton Manning, another player thriving improbably following career-altering surgery, also stars in this podcast. Russell Wilson, Romeo Crennel, Brett Favre, Jamal Lewis, Terry Allen, Norv Turner, Leslie Frazier, Titus Young, Richard Sherman, Alex Smith, Joe Namath and Johnny Unitas surface at various points.
Listeners also receive special Halloween access to a photo showing a certain NFC West blogger in costume as though right off the set for that John Clayton commercial.