ESPN's Michael Smith is reporting that former Kansas City Chiefs tailback Larry Johnson will sign with the first-place Cincinnati Bengals this week.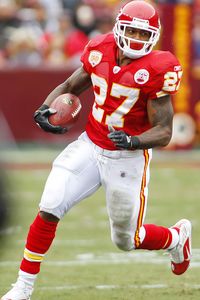 Geoff Burke/US Presswire
Former Chiefs running back Larry Johnson could help the Bengals rest Cedric Benson.
Are you surprised? Well, you shouldn't be.
Despite Johnson's troubled past, here are several reasons this move could work for Cincinnati:
1. Little risk
This move has Bengals written all over it, because they are purchasing a stock at its lowest possible point. According to Smith, the deal is expected to be prorated for the rest of the season at the league minimum. With seven games left in the regular season, Cincinnati is getting a former Pro Bowler virtually for free. If it doesn't work, the Bengals can cut ties with Johnson after the season as easily as they got him.
2. Benson factor
As evident by his recent hip injury, it was just a matter of time before wear and tear began to take hold with Bengals starting tailback Cedric Benson. He was on pace for more than 400 carries this year, and with Cincinnati (7-2) expected to get into the postseason, the team needs to make sure Benson doesn't peak too early. Signing Johnson allows that to happen. A workhorse in his own right, he can take a lot of the pounding down the stretch that Benson otherwise would take. It's unknown at this point if Benson will be ready for Sunday's game against the Oakland Raiders. But having Johnson paired with rookie Bernard Scott next week might not be a bad move while resting Benson.
3. L.J. adds depth
Benson putting up Pro Bowl numbers through the first nine games masked one of Cincinnati's few weaknesses this year. The Bengals were pretty thin at tailback. The aforementioned Scott broke out in a win against the Pittsburgh Steelers Sunday on special teams but hadn't shown much in the backfield during the first half of the season. Brian Leonard is a converted fullback who received some carries and did well with limited opportunities. But mostly it was all Benson all the time. Johnson is a proven commodity who adds experienced depth at the position.
4. Strong locker room
In the past, Cincinnati adding a troubled player would be a disaster. But this is as professional a Bengals team as you're going to see. Cincinnati has very good chemistry this year and a strong enough foundation to take on Johnson. Winning also helps as the Bengals are one of the best teams in the AFC. Players are not worried about their contracts and all have a common goal in mind of finishing strong and doing well in the playoffs. As long as Johnson concentrates on playing hard for the team and reestablishing his own image individually, this experiment could work for the Bengals.