So you lost your fantasy game last weekend because Maurice Jones-Drew took a knee to help the Jaguars manage the clock against the Jets rather than scoring a touchdown.
So did he.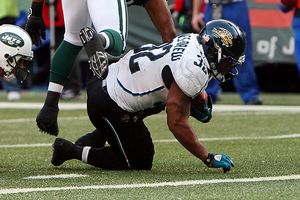 Jim McIsaac/Getty Images
Maurice Jones-Drew's kneel-down on the Jets 1-yard line in Sunday's game was smart move -- just not for his fantasy team.I just spoke to Jones and he said he lost his game by five points and fell to 6-4. A devoted fantasy player, his unselfish act may cost him a playoff spot in his league.
"That would have had me at 6-4 at the top of my league," he said. "It might cost me, but I trust that my team will step it up these next couple weeks and get us back into contention."
Here's an assessment of the fantasy-impact from ESPN.com's fantasy guru, Matthew Berry.
And here's what our fantasy folks have to say about the effect of the play in just our leagues:
Approximately 10,000 ESPN.com fantasy owners lost this week because of Maurice Jones-Drew taking a knee rather than scoring. Since every matchup has a winner and a loser, it's fair to say that some 20,000 players were affected by the play one way or the other.
I read that to MJD.
"That's awesome, that means that people are going to watch more, watch more Jacksonville games," he said. "They've got to stay tuned, you never know what we might do."
Does he hope to produce an extra score down the road to help offset the loss?
"I'm going to have to, I have to make it up for myself too," he said, before joking about help for the team avoiding a blackout of a home game for the first time this season. "You should tell those 10,000 that lost that if they come to the games, I will score next time. Fly down to Jacksonville and come to a game."