Falling
1. Patriots secondary: New England's defensive backs went into the season as one of the team's bigger question marks but seemed to have established themselves as one of the strengths over the previous few games. They were making plays and making opponents pay for testing them. Then Saints quarterback Drew Brees threw five touchdowns to five teammates and averaged 16.1 yards per attempt in Monday night's rout.
2. Tom Brady, Patriots quarterback: In the second halves of the Patriots' four true road games, he has completed 55.5 percent of his passes for 374 yards and one touchdown with two interceptions. That's a 63.1 passer rating, more than 33 points lower than his overall rating. The Patriots have lost each of those contests.
3. Chad Henne, Dolphins quarterback: Sunday's game against the Bills had been a close one for 55 minutes. The Dolphins hadn't surrendered the lead until a 56-yard field goal gave the Bills a three-point edge. But Henne threw three interceptions in the final 2:43 to help the Bills win 31-14.
Rising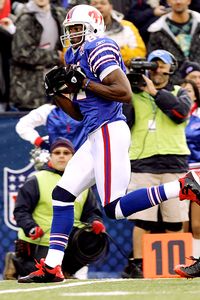 Kevin Hoffman-US PRESSWIRE
Bills receiver Terrell Owens has performed well since coach Dick Jauron was fired.1. Terrell Owens, Bills receiver: Since the Bills fired head coach Dick Jauron, the offense has awakened for T.O. Through nine games he was on pace to have his worst season, but in his past two he has 14 catches for 293 yards and two touchdowns. Quarterback Ryan Fitzpatrick is dialing long distance. The TDs were from 98 yards and 51 yards.
2. Kerry Rhodes, Jets safety: The respected veteran went into the season with big expectations of a turnaround. Former coach Eric Mangini had handcuffed him, but he was supposed to get back to his playmaking ways under Rex Ryan. Last week, Ryan gave Rhodes' job to Eric Smith. Rhodes didn't start, ending a streak of 74 games that began on opening day of his rookie year. He responded with two interceptions and a quarterback hit.
3. Fred Jackson, Bills running back: Interim coach Perry Fewell has anointed Jackson the back of choice, overtaking Pro Bowler Marshawn Lynch, who is having a disappointing year. Jackson rushed 15 times for 73 yards and two touchdowns and caught five passes for 43 yards in Sunday's victory over the Dolphins.