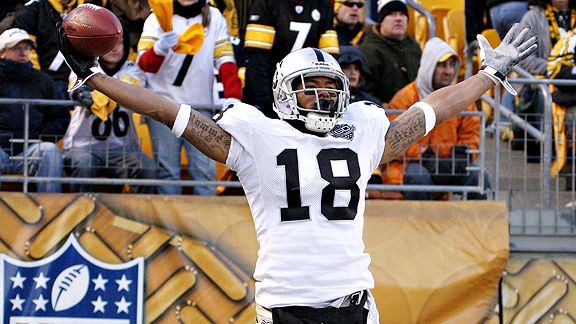 Gregory Shamus/Getty Images
Raiders wide receiver Louis Murphy's touchdown grab in the fourth quarter against the Steelers won the game -- and might have cost the Steelers a chance at the postseason.
PITTSBURGH -- Months from now when we look back at the 2009 Pittsburgh Steelers, Sunday's fourth-quarter meltdown against the Oakland Raiders could turn out to be the defining moment of their season.
Pittsburgh's defense, which entered Sunday ranked No. 3 in the NFL, gave up three touchdown drives in the final 8:21 of the fourth quarter during a 27-24 loss to the Raiders (4-8), the Steelers' fourth straight defeat.
Defensive players were completely befuddled in the locker room afterward.
Cornerback Ike Taylor, who was beaten for a 75-yard touchdown catch by Oakland receiver Louis Murphy in the final quarter, wasn't sure if he should have had backside help on the play. Although there wasn't any, Steelers head coach Mike Tomlin said that should have been the case.
"I mean, if the coach said it, it is what it is," Taylor said. "But it's tough having the receiver with a two-way [route] on a corner with that much field, inside or out."
Safety Ryan Mundy sat at his locker with a blank stare on his face. Mundy had a big personal foul penalty on a late hit that helped extend Oakland's game-winning drive.
"I'm just trying to make a play for my team, that's all," Mundy said. "I felt like I was there at the appropriate amount of time. You got to accept the referee's call and you can't let that affect you."
Steelers rookie cornerback Joe Burnett also dropped an easy interception when the ball went right through his hands. Five plays later, Raiders quarterback Bruce Gradkowski (308 yards, three touchdowns) connected with Murphy for the game-winning 11-yard touchdown.
"If I get 10 more [chances to make that catch], I'll make it 10 times," Burnett said of the key drop. "That was one where I wish I could have that opportunity back. That normally doesn't happen to me."
It was that kind of day for Pittsburgh.
In fact, it's been that kind of season for the Steelers (6-6).
Blowing fourth-quarter leads is nothing new. In fact, the Steelers have blown leads in the final quarter in all six losses. Sunday's game against Oakland was just the most extreme case, considering it was at home against a bad team, and the Steelers were desperate for a victory.
Despite Tomlin's claim that Pittsburgh would "unleash hell" in December, the Steelers were flat throughout the game and didn't play with much urgency until late.
Pittsburgh let the Raiders hang around in the first half. Quarterback Ben Roethlisberger, who returned after missing one game with a concussion, failed to get a fourth-down conversion inside Oakland's 5-yard line. He also threw an interception in Oakland's end zone to thwart another potential scoring drive in the first half. The Steelers led 10-6 at intermission.
When the reigning Super Bowl champions failed to deliver a knockout blow early, the Raiders gradually gained more confidence at Heinz Field, particularly when they realized they were still in the game during a frantic fourth quarter.
In the NFL, the ball can bounce in strange ways in the final quarter, and Oakland made several tremendous plays offensively. Roethlisberger, who threw for 278 yards, two touchdowns and an interception, led Pittsburgh's offense to two scoring drives that gave the Steelers the lead. But the defense couldn't hold down the stretch.
"We didn't make a play to win that football game," Tomlin said.
The loss to Oakland may have sealed the Steelers' fate this season.
At the very least, Pittsburgh has to win its final four games to finish 10-6 with a shot at playoffs. But the way the Steelers are playing, suddenly going on a four-game winning streak is a very tall task.
And 10 wins doesn't even guarantee Pittsburgh a chance to defend its championship. The Steelers probably will need a lot of help.
The Denver Broncos (8-4) and Jacksonville Jaguars (7-5) currently hold the two wild cards in the AFC. The Baltimore Ravens (6-5) also have a chance to help their chances Monday night in a key game against the Green Bay Packers (7-4). The Miami Dolphins (6-6) and New York Jets (6-6) are in the mix, making for a crowded field where a lot has to go right for Pittsburgh in the final month.
If the Steelers don't make the playoffs, it would be one of the most disappointing seasons for Pittsburgh in recent memory. How they found themselves in that position would be a question the Steelers would ponder all offseason.
Pittsburgh has a talented roster that was good enough to beat the Broncos, San Diego Chargers (9-3) and Minnesota Vikings (10-2). But the Steelers also were inconsistent enough to lose to the lowly Raiders and Kansas City Chiefs (3-9) during a four-game skid.
"It's not about those teams, it's about us," Steelers defensive back Deshea Townsend said. "Every time we go out to play, it's about us. If we play the ball that we know we're capable of playing, we have a chance to win every game. But when we don't, we find ways to lose."