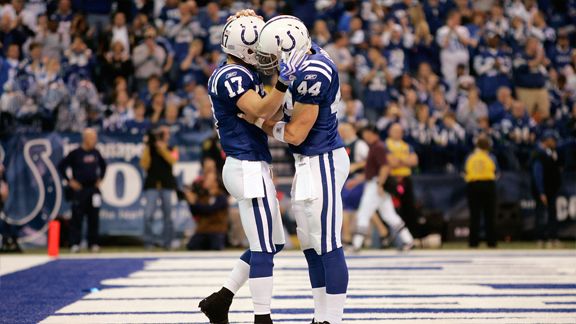 Scott Boehm/Getty Images
The Indianapolis Colts won their 21st regular-season game in a row on Sunday.
INDIANAPOLIS -- Be honest. You expect it.
The Indianapolis Colts' 27-17 victory over the Tennessee Titans Sunday is the Colts' 21st straight regular-season triumph. Now that's impressive. But there aren't streamers floating over Indy. There is no parade scheduled or dancing in the streets.
The Lucas Oil Stadium press box was hardly jammed for the game that saw the franchise match the 2006-08 New England Patriots' record winning streak. It won't be stuffed next week either, when the Colts -- now 12-0 this season -- have a chance to own the consecutive victories record outright when the Denver Broncos visit.
Despite the urgings I get in my e-mail, I don't invest any time, energy or belief in a good team being under-the-radar or forgotten -- certainly not one quarterbacked by the league's most recognizable and marketed star.
Where national media are concerned, everybody's taken a turn checking in on Peyton Manning. They've noted that the Colts defense can be overshadowed by him. They've marveled at how the team overcomes injuries. They've discussed how the team has succeeded during the coaching transition from Tony Dungy to Jim Caldwell. They've reported that the Colts always seem prepared, under the direction of executive Bill Polian, for every contingency.
But let's be honest.
When there also is a 12-0 team in the Superdome in the New Orleans Saints, that's big. Their venture into uncharted territory is exciting, especially since their fans used to wear paper bags over their heads.
That seems understandable to me. It's also reasonable -- if a touch unfair -- that the Colts are expected to win games and match their standards and be steady and uncontroversial and consistently good, leaving us to debate their regular-season success against the penchant for postseason underachievement.
Teenagers in Indianapolis think of the Colts' .733 regular-season winning percentage since 1999 as part of the city's fabric, just like open-wheel racing, conventions and high school basketball.
And any ho-hum feeling for it extends across the country.
"We're probably not the darling," center Jeff Saturday said. "It's one of those things that we've won a lot of games over the years and I think there are certain expectations that we are going to win."
"I think we've won the most games in the decade or something like that," said Dwight Freeney, whose sack of Titans' quarterback Vince Young put him in double digits for a sixth time in his career. "It hasn't always translated into championship wins at the end of the year. But we have a good system around here.
"And I think people get used to that -- 'Oh yeah, the Colts are 9-0, 10-0' and it's always, 'What are we going to see in the playoffs and what's going to happen?' We understand that and hopefully we can keep this momentum going."
Hallmarks that have come with it all are a humility in line with Dungy and Caldwell and a respect from opponents for the way the Colts piece it all together.
The Titans were playing as well as anyone in the league, including the Colts. They'd won five in a row in exhausting, draining work. The Titans said a streak over four times as long as theirs was something that deserves a great deal of credit.
"It's hard to win week-in and week-out in this league and that's an incredible accomplishment to win 21 regular-season games in a row," said Titans fullback Ahmard Hall.
Against the Titans (5-7), a fast start was a big theme.
With cornerback Cortland Finnegan blanketing Reggie Wayne with help from a safety, Tennessee was determined to force Manning to look elsewhere. He had no problem doing so, hitting Pierre Garcon with three passes for 99 yards in the first quarter alone. Manning often took advantage of the coverage of a former teammate, Titans defensive back Nick Harper.
Finnegan was distraught after the loss. The Titans had an effective game plan on Wayne -- he finished with four catches for 48 yards -- but that didn't translate to a win.
He was the first to greet Manning as the two teams exchanged pleasantries on the field in the final seconds.
"I told him I appreciate what he's done for the game, what he stands for," Finnegan said. "He was relaying the same thing to me, that he appreciates the way I play the game, and to stay healthy. It was just kind words to each other. I just wished him the best of luck on what they've got going."
For Indianapolis, the victory was a return to the form of their early-season success. In recent weeks they were forced to come from behind. And while doing so forged a certain toughness, confidence and resiliency that may be big resources in the playoffs, it's not the preferred formula.
"We did talk about, 'Hey, these comebacks are nice, but we don't have to,'" said Manning, whose Colts led 21-3 at one point. "I've always thought comeback wins, they're good, but it means you screwed up in the first three quarters to put yourself in that position."
A victory over the Broncos will bring the Colts closer to their goals of a first-round bye and home-field advantage throughout the playoffs as well. When they have those, odds are they will let up, and when they let up, odds are they will lose and the streak will crack.
Saturday didn't indicate Manning will be accepting of that.
But he's not so sure about the streak as it stands anyway.
"For me the playoff loss breaks it up," he said pointing back to the San Diego Chargers' elimination of the Colts in January. "I don't know. However the statisticians do it. You lose in San Diego and that's really why you play the game, right? To win in the playoffs? So I don't look at it really like that . . .
"It's great when you hear it. It's really not a goal that we set."
Caldwell said his Colts probably will make mention of it when they gather on Wednesday, and maybe take a minute to appreciate it before they go quietly back to work.
"I think I've used this before, I think I stole it from somebody, but it's without unmitigated pleasure," he said. "The guys enjoy it, they like it, but it's not something that goes to their head. I think they are starting to believe a bit like I do in the sense that we'll tally them up when the season's over. We've still got a lot of work to do."