Falling
Matt Cassel, Chiefs quarterback: Cassel had perhaps the worst game of his pro career against Denver and Josh McDaniels, the man responsible for making him an effective NFL quarterback last year in New England.
In a 44-13 loss to Denver, Cassel completed only 10 of 29 passes for 84 yards. He was intercepted twice and he departed the game in the third quarter with the Chiefs trailing by 28 points. He will remain the Chiefs' starter, but he has to rebound.
Todd Haley, Chiefs coach: Haley has been criticized for making questionable calls at points in his first season as an NFL head coach. Sunday, in a 31-point loss to Denver, Haley made a couple of decisions that will be questioned.
He opted for a fake punt (using his backup quarterback as the phony punter) and he didn't take a holding penalty on Denver that could have taken the Broncos out of field-goal position. Overall, Haley is doing a decent job, but he is having some growing pains.
The AFC West's bad reputation: The AFC West was expected to be the worst division in football entering the 2009 season. But every team in the division appears improved from last season. After three teams won Sunday, the AFC West already has accounted for 24 wins, which is one more than the division won all of last year.
Rising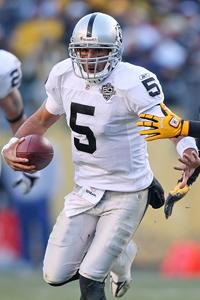 Jason Bridge/US Presswire
Bruce Gradkowski passed for 308 yards and three touchdowns against the Steelers this past Sunday.
Bruce Gradkowski, Raiders quarterback: It is too early to say Gradkowski is Oakland's long-term answer at quarterback. But he is has given the team a spark and he is a better fit for the offense than former No. 1 overall pick JaMarcus Russell ever was.
Gradkowski threw three touchdown passes in the fourth quarter as the Raiders shocked the Steelers. Gradkowski threw for 308 yards and showed he is ready to give the Raiders a lift in the final quarter of the season.
Antonio Gates, Chargers tight end: Gates is one of the most dangerous offensive weapons in the league and he is playing out of his mind these days.
Gates had eight catches for 167 in a win over Cleveland. In his past two games, Gates has 15 catches for 285 yards and two touchdowns. When Gates is rolling, he is difficult to stop.
Correll Buckhalter, Broncos running back: Buckhalter is a fantastic game-breaking back who is a perfect complement to rookie workhorse Knowshon Moreno. Buckhalter had 113 yards on 12 carries in a win at Kansas City on Sunday.
Buckhalter had 56 yards on three carries on one drive. He is a threat to break off a long run every time he touches the ball.