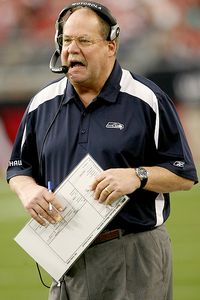 Stephen Dunn/Getty Images
Holmgren will be the Cleveland Browns' third front-office leader in the past year.It took a lot of money and complete control of the organization, but the Cleveland Browns pulled off a major coup in landing Mike Holmgren. The former Green Bay Packers and Seattle Seahawks coach agreed to terms with the Browns to become the team's president on Monday.
Holmgren brings instant credibility and leadership to an organization that has lacked those qualities since returning to the NFL a decade ago. Holmgren will be the Browns' third front-office leader in the past year, following George Kokinis and Phil Savage.
Now that all the speculation is over, it's time for Holmgren to get to work. His first order of business is to figure out what to do with Cleveland's coaching staff.
Head coach Eric Mangini is in his first year with the Browns, who are 3-11 but have won their past two games. When a new leader takes over, he usually hires his own people, and most league observers expect Holmgren to do the same. But Mangini will have two more games to prove that he deserves another season in Cleveland.
From there, Holmgren and his front office will begin evaluating the draft and free agency. The Browns will be major players next April with 11 draft picks, and owner Randy Lerner has never been afraid to spend money on free agents. Therefore, Cleveland has an opportunity to significantly improve its thin roster in the offseason.
It's fair to point out that Holmgren had mixed results evaluating talent in Seattle, and at one point the Seahawks stripped him of that role. This will be Holmgren's second attempt to lead a front office.
With the Baltimore Ravens (8-6) and Pittsburgh Steelers (7-7) consistently competitive, and the Cincinnati Bengals (9-5) currently on the upswing, getting the Browns out of the basement in the AFC North will not be easy. But Holmgren has a pedigree of success that should instill hope in a disgruntled fan base.
Lerner deserves a lot of credit for convincing Holmgren to join the Browns. Now it's up to the "Big Show" to make the organization respectable again.