Falling
1. Sean Payton, Saints coach: He has had a brilliant year and now is not the time to ruin it all. Payton fell into the trap he spent all of last year in on Saturday as he totally abandoned the running game against Dallas.
Yes, quarterback Drew Brees is awesome and the receivers are great. But defenses know that and devote all of their attention to them. Part of the reason the Saints won their first 13 games was because Payton had made such a strong commitment to at least have a little balance between the passing and running games. One of the reasons the Saints lost in Week 14 was because there was no running game.
2. Mike McKenzie, Saints cornerback: We have been singing the praises of the Saints all year, but after a loss, you have to point out the flaws. McKenzie had a great first game back after the Saints re-signed him.
But he has looked like what he is (a very old cornerback) since then. The Saints got Tracy Porter back on Saturday and they need Jabari Greer and Randall Gay back for the playoffs. They have a problem if they have to rely heavily on McKenzie in the playoffs.
3. Jermon Bushrod, Saints left tackle: New Orleans has done a great job of getting by without left tackle Jammal Brown -- up until Saturday night. It is a great accomplishment when you can win so many games without your left tackle and Bushrod deserves some credit for playing over his head most of the season.
But the Cowboys exposed Bushrod's deficiencies and part of the reason was that the Saints did not give him nearly as much help as he usually gets. They might want to rethink that and maybe think about playing Zach Strief at left tackle instead.
Rising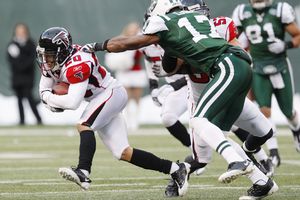 Kathy Willens/AP Photo
Atlanta's coaches believe Brent Grimes is the best overall athlete on the team.1. Brent Grimes, Falcons cornerback: All season long, Grimes has been the target of venom from fans and passes from opposing quarterbacks because he's short (listed at 5-foot-9). But Grimes responded with two big interceptions Sunday as the Falcons got a road win against the Jets.
As unpopular as Grimes may be with some fans, there is a reason the Atlanta coaching staff has continued to turn to him this year. The coaches truly believe Grimes is the best overall athlete on the team and can overcome his height issue with his leaping ability. The belief is Grimes is just fine when the Falcons can produce a little bit of a pass rush. No coincidence here, but the Falcons were able to get consistent pressure, one of the few times all year, on Mark Sanchez.
2. Steve Smith, Panthers wide receiver: You knew the walking powder keg was on the verge of exploding all season. It finally happened Sunday night against the Vikings and defensive back Benny Sapp.
Smith tore up Sapp on the field. Then, he absolutely shredded him in a live postgame interview. Memo to the Carolina public relations staff, which usually guards Smith much tighter than any defensive back ever could: I know the decision had to be made very quickly, but you might want to think twice about letting the guy go on national television while the competitive juices still are flowing.
3. Josh Freeman, Buccaneers quarterback: The one guy who could save Raheem Morris' job probably has. After two horrible games, Freeman played like a big-time quarterback in Seattle.
At the same time, the rest of the Bucs actually looked like a football team. This is the ray of sunshine Morris has needed so badly.