Five nuggets of knowledge about Week 16's games: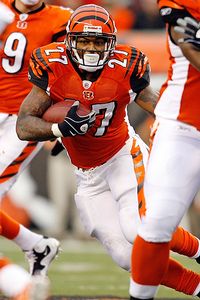 Andy Lyons/Getty Images
Bengals running back Larry Johnson plays the Chiefs for the first time Sunday since being cut earlier in the season.Chiefs will meet LJ: While Denver safety Brian Dawkins' return to Philadelphia is the big reunion story in the NFL this week, do not forget the meeting between the Chiefs and running back Larry Johnson. Of course, it would be a bigger deal if Johnson and the Bengals were visiting Kansas City. When Johnson was cut by the Chiefs in November after several off-field issues, he was vilified in Kansas City. But his teammates didn't have a huge problem. So, while it will be interesting to see this matchup, there probably won't be any revenge on the minds of the Chiefs when facing Johnson, who is a backup in Cincinnati.
Merriman meets the Titans: There is bad blood between the Chargers, particularly linebacker Shawne Merriman, and Tennessee. Don't expect much Christmas night cheer in Nashville. Merriman maintains the Titans were guilty of a cheap shot on his knees. He said it was the beginning of his knee woes that kept him out of all but one game last season. The Chargers and Merriman haven't forgotten. This week, Titans coach Jeff Fisher said the Chargers are not a beloved team around the league. Expect some holiday feistiness. This could be fun.
Can McDaniels keep his streak going? During training camp, Denver coach Josh McDaniels boasted he has never been .500 or under in any season in any sport during his life as a player or coach -- dating back to his fourth-grade basketball team. In his first season as an NFL head coach, McDaniels' Broncos are 8-6. They can ensure themselves of a winning record with a victory at Philadelphia. It won't be easy, but McDaniels has a shot. But he is making himself sweat. The Broncos could have locked up a winning record the past two weeks but lost to the Colts and Raiders.
Can Oakland get over the five-win hump? Oakland has a chance to improve to 6-9 Sunday at Cleveland. No, that is not a good record, but it would be a significant plateau for the Raiders. Oakland has set an NFL record by losing at least 11 games in each of the past six seasons. That horrible streak can end if the Raiders win at Cleveland or against the Ravens at home next week. With Baltimore in the playoff hunt, this is Oakland's best chance to end the madness.
Chiefs will be facing emotions: For the second straight week, an AFC West team will have to face the grieving Bengals. Last week, San Diego beat Cincinnati three days after receiver Chris Henry died. This week, the Chiefs will be facing the Bengals in their first home game since Henry's death and five days after the team went to Henry's funeral in Louisiana. Expect emotions to be just as high this week as last week.