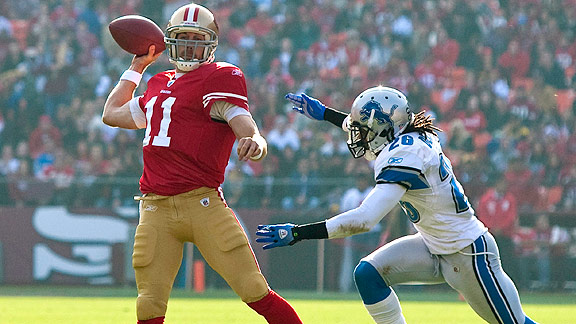 Jason O. Watson/US Presswire
San Francisco quarterback Alex Smith was an efficient 20-31 for 230 yards and a touchdown Sunday.SAN FRANCISCO -- The end zone was within striking distance as San Francisco 49ers quarterback Alex Smith scrambled to his right Sunday.
Smith probably should have dove into the end zone instead of pulling up at the last moment and throwing a disputed 2-yard touchdown pass to tight end Vernon Davis.
"Alex came to the sideline and I was scratching my head and he knew what I was going to say," 49ers coach Mike Singletary said.
"Coach, be nice, be nice," Smith told Singletary upon reaching the sideline.
The Detroit Lions thought Smith had crossed the line of scrimmage before throwing the pass to Davis. Replays were inconclusive. The touchdown stood during the 49ers' 20-6 victory at Candlestick Park, but the play pointed to a broader dilemma.
What should the 49ers make of Smith?
The once- and possibly future franchise quarterback has played well enough late this season to qualify as the favorite to start entering 2010. He has not shown enough to command a long-term contract, however, and that means the 49ers still cannot be sure they have the right man under center. The 49ers scored only 20 points Sunday despite collecting six turnovers and starting eight drives outside their own 40-yard-line.
"We did some good things," Smith said. "We missed some clear opportunities there, especially in the first half. ... We didn't get it done there. I think that's not only me, but the offense as well. We need to improve that."
Smith is 25 years old and improving. He has needed only nine starts and 10 total games to reach 17 touchdown passes, one more than the career high he set as a 16-game starter in 2006. He has a 4-3 record in his last seven starts, throwing more interceptions than touchdowns in only one of those games (at Philadelphia). Smith completed 20 of 31 passes for 230 yards, one touchdown and a 97.5 rating against the Lions.
Smith's 17 touchdown passes are more than any 49ers quarterback has thrown in a season since Jeff Garcia had 18 in 2003.
"He's come a long way," said former 49ers and Seahawks linebacker Julian Peterson, now with the Lions. "I thought he made good strides that one year (2006) when they beat us twice and I was in Seattle. Then they stuck him back out there when he was injured and I thought that was kind of wrong. But now he is healthy and a lot better."
The 49ers have promising young skill players around Smith. Davis, with 12 touchdown receptions, is enjoying a Pro Bowl-caliber season at tight end. Rookie receiver Michael Crabtree has 45 catches in 10 games. Josh Morgan, another young receiver, has a career-high 50 catches.
Smith showed improved touch on his shorter passes Sunday, particularly when facing pressure. He's been a little quick to backpedal out of plays in some games, making it much tougher to complete passes against the rush. Peterson was about to blast Smith on fourth-and-1 play Sunday when the quarterback floated a touch pass to an uncovered Frank Gore. The play produced a 48-yard gain. Earlier, Crabtree had to wait on a deep ball, but the play still produced a 50-yard gain.
"I thought he was pretty consistent -- nothing great, but consistent," Singletary said.
The 49ers remain a team in transition. They've had two quarterbacks, two left tackles and three wide receivers start at least six games. They've gone from being a power running team to a shotgun passing team to a team trying to make the disparate approaches work together. They are working with their seventh offensive coordinator in seven seasons and their fifth in five seasons since Smith was a rookie.
This hardly seems like the time to break in another quarterback.
"I think Alex has done a real good job," left tackle Joe Staley said. "He understands where to go with the ball every time and he creates on the run, too. We have a lot of explosive young guys and once everybody matures and knows exactly what they are doing on every play, we're going to be really, really explosive."
Becoming more comfortable within a traditional NFL offense is Smith's primary challenge as a former college spread quarterback.
The 49ers had three plays covering 20 yards or longer against Detroit. They had two running backs on the field for all of them. That is no coincidence.
For all the strides Smith has made since tossing one touchdown pass with 11 interceptions as a rookie, he hasn't shown he can carry an offense. Big plays tend to open up for the 49ers when opponents fear what Gore offers on the ground.
That was certainly the case when Smith found Crabtree wide open for that 50-yard gain. The 49ers were lined up in an offset-I formation with bruising fullback Moran Norris leading for Gore. The 49ers' other plays covering at least 20 yards came with two backs and two tight ends. Both were in short-yardage situations.
The Lions had to respect Gore before they could worry about Smith.
"Best back in the league," 49ers running back Michael Robinson said. "Some guys got more yards, but look at his feet. Look at the guys he makes miss. He is awesome."
Gore moved past 1,000 yards for the season Sunday, becoming the first 49ers player to reach that milestone in four consecutive seasons.
"It's kind of good to see us evolve into more of a balanced offense," Robinson said.
Smith and the 49ers have more to lose than gain heading into their regular-season finale at St. Louis. It's too late for Smith to prove he's definitely the man -- or not the man -- this season.
As referee Walt Anderson discovered in reviewing the scoring pass that left Singletary scratching his head, sometimes the evidence isn't conclusive.