Falling
1. Ravens' discipline: The Baltimore Ravens had 11 penalties for 113 yards during a 23-20 loss to the Pittsburgh Steelers. Better discipline could have made a difference for Baltimore in a close game.
Penalties have been an issue all year for the Ravens (8-7), who are among the league's most penalized teams. Some are effort penalties, such as pass interference against cornerback Chris Carr. Others were not smart plays, like the personal foul by defensive tackle Haloti Ngata.
Baltimore has to play smarter and more efficiently if it wants to beat the Oakland Raiders (5-10) on the road this week to get into the postseason.
2. Frank Walker, Ravens cornerback: Walker was picked on often by Pittsburgh. He had seven tackles and no pass defenses in last weekend's loss.
Walker was the culprit in arguably two of Pittsburgh's biggest passing plays. The first was a 45-yard completion to Steelers rookie Mike Wallace over Walker before halftime that led to a touchdown four plays later. The second was Walker's illegal contact penalty in the fourth quarter that negated an interception by Ravens safety Tom Zbikowski.
To be fair, I thought Walker's penalty was a questionable call. But it counted nonetheless.
3. Rashard Mendenhall, Steelers tailback: Mendenhall went over 1,000 yards rushing for the first time Sunday. But he didn't have his best game against the Ravens. Mendenhall rushed for 36 yards on 17 carries (2.1 yard average).
Against a disciplined Baltimore defense, Mendenhall tried to juke and run sideways too often. He scored a touchdown but also had a fumble, which has been an issue for Mendenhall during his first two years in the NFL.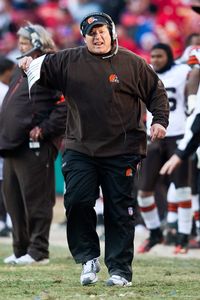 Jeff Moffett/Icon SMI
Eric Mangini's Browns have a three-game winning streak.Rising
1. Eric Mangini, Browns head coach: Mangini has the Browns tied for the second-longest winning streak in the AFC after winning their third straight, a 23-9 victory over Oakland. The Browns (4-11) are finishing the season strong after an abysmal start.
Mangini deserves credit for putting his best foot forward in an effort to impress new team president Mike Holmgren, who has noticed the team's effort. Mangini has a chance to put a final stamp on the 2009 season Sunday against the Jacksonville Jaguars (7-8).
2. LaMarr Woodley, Steelers linebacker: Woodley is known for coming on strong at the end of the season. Last year he registered a sack in every playoff game, including two in Super Bowl XLIII. This season he has 5.5 sacks in his past four games.
Woodley has matched his career-high with 11.5 sacks. He has a chance to reach a personal best Sunday against the Miami Dolphins (7-8).
3. Domonique Foxworth, Ravens cornerback: After a slow start, Foxworth is playing great football. He recorded his third interception in two weeks Sunday against Pittsburgh.
Foxworth scored on the pick but it was called back because of a penalty. He has stepped up as the team's best cornerback after Fabian Washington went down with a season-ending knee injury. Foxworth is tied with safety Dawan Landry for the team lead with four interceptions.