For about 30 minutes Wednesday afternoon, Redskins fans were able to forget about the miserable '09 season and look toward a better future. Redskins general manager Bruce Allen took the podium a little after 2 p.m. ET and introduced "one of the most consistent winners in the NFL."
Allen, a former agent, even cited an old New York Times article that said Mike Shanahan "dares to be great." But who can blame the son of George Allen for using a little hyperbole to introduce the Skins' new head coach?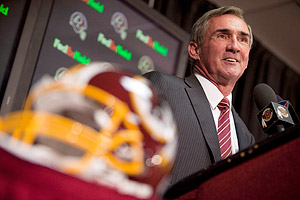 AP Photo/Evan Vucci
Mike Shanahan was officially announced as the head coach of the Washington Redskins in a news conference Wednesday afternoon.The former Broncos coach talked about owner Dan Snyder's passion for the organization several times and said that both Joe Gibbs and -- wait for it -- Marty Schottenheimer gave the owner ringing endorsements. Of course, it feels somewhat natural to praise a man who just agreed to pay you $7 million per year. Shanahan mentioned he's known Snyder for the past 10 years and they've become friends while visiting during the owner's meeting each year. He told the story of Snyder jokingly asking Broncos owner Pat Bowlen one time if he'd be willing to trade head coaches. Fortunately, Shanahan didn't provide the name of the Skins coach at the time.
Unless I missed something today, I'm pretty sure Snyder was not sitting at the head table during the news conference. And believe me when I say that was a well-designed play. Snyder knows about the perception that he's a meddlesome owner who can't keep his hands off the football decisions. And by the way, I think that perception has been a reality in the past. But perhaps Snyder has finally learned his lesson. I've never doubted for a minute that he has a passion for the organization, but his management style has riled both employees and the Skins' fan base. He used to have Vinny Cerrato around to deflect some of the criticism, but that's no longer an option.
If he's truly willing to step away from the football side and let Shanahan and Allen run things, this thing might have a chance of working. Shanahan was quickly asked about whether he'd truly have final authority on all football decisions.
"Maybe you can say that [I will have final say] but we will never use that, because we will work together as a team," said Shanahan.
We've heard speculation that Shanahan may have influenced Snyder to hire Allen as general manager -- and Shanahan pretty much backed that up during Wednesday's news conference, recalling a conversation in which he said, "Dan, a guy like Bruce doesn't come along very often." Shanahan said he wanted to work with Allen because he believes the general manager will disagree with and challenge him.
"I wanted someone who I know would give me his opinions on everything," Shanahan said.
Shanahan said he would interview all the current members of the coaching staff who had a desire to remain with the franchise but he made it clear that he would look outside to assemble the best possible group. He confirmed that his son, Kyle, would be offensive coordinator and it's obvious that he's particularly pleased with that scenario. Shanahan said he wanted each of his assistants to "know more about that position than me."
Shanahan was also asked about his plans for quarterback Jason Campbell. He said he would sit down with the quarterback and go over every play during his career.
"I look forward to working with [Campbell]," said Shanahan. "I've been loving the way Jason handles himself... Hopefully the best years are ahead."
Regarding running back Clinton Portis, Shanahan said he needed to sit down and watch film before he was ready to pass judgment on the player. He did talk about how older running backs can "fall off a cliff" if they don't take care of their bodies during the offseason. Shanahan was speaking more in general terms at that point, but he could've been talking about Portis, who has been criticized for skipping offseason workouts and not practicing in the past.
"I love his toughness," Shanahan said of Portis. "He was obviously very, very productive when he was at Denver."
Shanahan didn't want to use the word "rebuild," but he also didn't want to make any promises other than to say he would make sure the team improved on a daily basis. Interestingly, he said he favored holding training camp away from the team's practice facility. He did it both ways in Denver. It looks like the Redskins will be leaving Ashburn, Va., for training camp if Shanahan can find some suitable practice facilities and meeting rooms.
Shanahan said he spent this past season watching football on Sundays and reviewing film during the week. He said it was good to get away from the game, but that he was always anxious to get back in it. Overall, it was a pretty impressive first day on the job. Now the hard part begins.