Three nuggets of knowledge about Saturday's Eagles-Cowboys wild-card playoff game.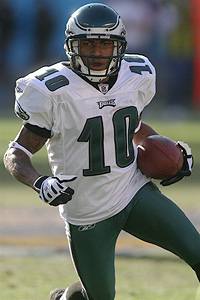 Jeff Hanisch/US Presswire
The Eagles could try to establish the run early to open up a big play for receiver DeSean Jackson.1. The Eagles are going to try to hit some underneath routes early. Philly has become so enamored with the big play that players get frustrated if they go too many plays without hitting one. I think you'll see Andy Reid attempt to get Brian Westbrook or LeSean McCoy matched up against a Cowboys linebacker. I also think you'll see more short crossing routes. The Eagles want to establish some rhythm to the offense early. They need to find a much better tempo in this game. Don't be surprised if Reid stays with the run a lot more early. If you can have a little success in the running game, it could freeze one of the safeties when you try to hit DeSean Jackson deep on a play-action pass.
2. The Eagles' offensive line will look better this week. It's tough to throw Nick Cole in at center and then drop Max Jean-Gilles at right guard. The Eagles' offensive line wasn't on the same page from the start last Sunday. You'll see them play with a lot more confidence Saturday night. It's hard to imagine Donovan McNabb having back-to-back poor games. He has a knack for bouncing back, and it wouldn't surprise me if he puts up some big numbers.
3. Tony Romo must remain patient in this game. There's a good chance Sean McDermott will try to bring the house on defense early in this game. Romo may need to bide his time and simply protect the ball early. He'll have his opportunities. Cornerback Asante Samuel will try to bait him into making a mistake. Romo has done a tremendous job of protecting the football this season, and I think he realizes that possessions become even more precious in the playoffs. You'll see him stay in his comfort zone early as he tries to get the ball to tight end Jason Witten. The Eagles don't have anyone who can cover Witten outside of Sheldon Brown and Asante Samuel. If they try to cover Witten with Will Witherspoon or Jeremiah Trotter, he'll have at least seven receptions. The Cowboys came out last Sunday and pounded the ball with Marion Barber and Felix Jones. They should stay with that approach.