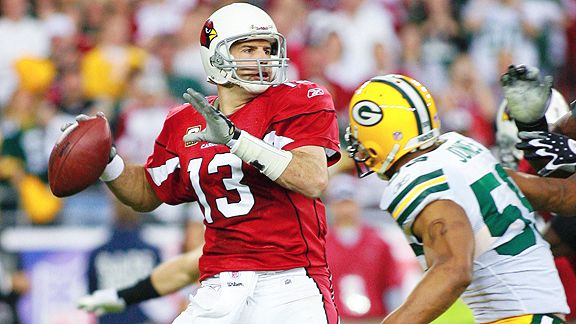 Chris Morrison-US PRESSWIRE
Arizona quarterback Kurt Warner is making a strong case to get into Canton.Arizona Cardinals coach Ken Whisenhunt announced a fateful decision Aug. 30, 2008.
Kurt Warner had beaten out Matt Leinart as the starting quarterback. It was big news at the time.
"If you look at just our (2007) season where we ended up playing three (quarterbacks), I think it is a pretty high percentage that Matt is going to play this year at some point for us," Whisenhunt said heading into that 2008 season.
At that stage of his career, Warner was still convincing coaches he could limit turnovers well enough to make all those touchdown passes matter more. Though he had led the NFL in touchdowns over the second half of the 2007 season, he was still breaking free from a five-year period featuring 27 touchdowns, 30 interceptions and questions about his viability.
Seventeen months since Whisenhunt chose his starting quarterback, Warner has helped his coach rank among the greats in postseason winning percentage. Counting playoffs, Warner has thrown 72 touchdown passes with 31 interceptions and a 23-13 starting record over the past two seasons.
Instead of debating whether Warner should start over Leinart, the more relevant question has become whether Warner deserves Hall of Fame induction once his career is finished. The case is getting stronger by the week.
An updated look at his Canton credentials:
1. Longevity.
The great quarterbacks had staying power. Warner has played in 124 regular-season games, about 60 fewer than the average for the 14 quarterbacks enshrined over the last 25 years. This is one of the few categories where Warner doesn't measure up.
On the other hand, Roger Staubach played only seven more games. Like Warner, he was an elite big-game quarterback. No one questions Staubach's Hall of Fame credentials. And Warner, playing in a pass-happy era he helped christen, certainly has better stats.
2. Production.
Here is where Warner's relatively short game log works to his advantage. He has put up Hall of Fame-caliber numbers in less time than players already enshrined. His offenses in St. Louis scored 526, 540 and 503 points in consecutive seasons, setting a standard that holds up well across any era.
Of those 14 quarterbacks enshrined since 1985, none could match Warner in completion percentage, yards per attempt or yards per game. Steve Young is the only one with a higher passer rating than Warner. Dan Marino is the only one with more 300-yard games (Warner has 52, twice as many as Jim Kelly, who played in 36 additional games).
3. Postseason success.
Only Bart Starr (104.8) has a higher postseason passer rating than Warner (104.6) among NFL quarterbacks all time. Warner closed the gap to within a couple tenths of a rating point with his five-touchdown, zero-interception performance against the Packers in the wild-card round.
Warner has averaged 312.3 yards per postseason game, most in league history. And unlike the other four players in the top five on that list, Warner has won a Super Bowl. He has played in three of them, posting the three highest yardage totals in the game's history.
Joe Montana, Tom Brady, Terry Bradshaw, John Elway, Brett Favre, Troy Aikman and Staubach are the only quarterbacks with more postseason victories than Warner.
Warner, with a 9-3 record in postseason, needs two more victories to match Aikman and Staubach on the all-time list. Beating the Saints in the divisional round Saturday would move Warner out of a tie with Starr (9-1), Donovan McNabb (9-7) and Kelly (9-8) for sole possession of eighth place on the list.
Warner has passed for at least 365 yards in half his 12 playoff starts. No other quarterback has hit that mark more than three times in postseason (Peyton Manning). Warner owns three of the 23 postseason performances in which a quarterback threw at least four touchdown passes (Montana, Manning and Daryle Lamonica each did it twice).
4. Unique legacy.
Warner's rise from supermarket shelf stocker to Super Bowl hero gives his legacy another dimension. Leading two previously dormant franchises to the Super Bowl also separates Warner from the typical Hall of Fame candidate.
Not many Hall of Famers would lose jobs to Marc Bulger and a young Eli Manning before working feverishly to beat out Leinart. A thumb injury doomed Warner in St. Louis. The Giants and Cardinals weren't going to leave a first-round choice on the bench (Warner's passer rating with New York, by the way, was higher than any Manning posted until this season).
It's been a strange career for Warner, no question.
"Regardless of how it happened, I just think Kurt has done things that I don't know anyone else has done," Young told Bernie Miklasz during a recent radio interview.
It's tough to write the history of the game without sharing Warner's remarkable story.