Here's a Mike Tice story that will tell Chicago fans all they need to know, for better and worse, about their new offensive line coach.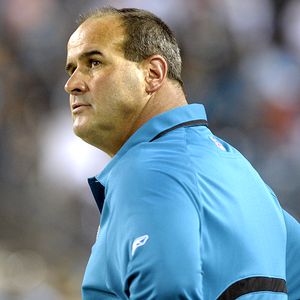 Al Messerschmidt/Getty Images
Mike Tice is back in the NFC North as Bears' offensive line coach.In the final month of the 2003 season, Tice's second as Minnesota's head coach, the Vikings were in the midst of a 3-7 collapse that would ultimately keep them out of the playoffs. Searching for a way to stabilize his team for a Soldier Field matchup with the Bears at Soldier Field, Tice decided to rely on the emerging skills of rookie tailback Onterrio Smith.
His message to players that week emphasized the need to toughen up and push through their struggles by getting back to the fundamentals of football. That's what they needed, Tice said, to win a game in Chicago. Tice repeated that message in every media interview he did, famously calling Chicago a "tough-guy town" that needed to be met strength-on-strength. He made no secret of his intention to run the ball down the throat of the Bears' defense.
Tice is 6-foot-8, has a deep voice and once told me that his "size-14 foot" would play a big role in player discipline. He always advocated the power running game, but it wasn't clear if his gameplan was based on a schematic philosophy or the otherwise irrelevant history of the city his team was scheduled to play in. Smith ran for 148 yards in the game, but the Bears still won, 13-10 -- in part because the approach shortened the game for the Vikings' mistake-prone offense, leaving them fewer possessions to score.
Tice soon realized the irrational nature of his game plan, however, and admitted it through a self-deprecating set of appearances on the Vikings' radio flagship. He recorded himself saying the names of most cities in Minnesota, and the station edited those names in front of his "tough-guy" quote. Throughout the offseason and the following summer, you could hear Tice saying:
"Minneapolis? Tough-guy town."
Or:
"St. Cloud? Tough-guy town."
Or:
"Stillwater? Tough-guy town."
To be clear, Tice was an emotional, tough-nosed advocate of power running who was always willing to admit and laugh at his mistakes. But make no mistake about this: He is a perfect offensive line coach for the Bears under Lovie Smith.
Before he was the Vikings' head coach, Tice was their excellent offensive line coach. He played a big role in the Pro Bowl status of center Matt Birk and right tackle Korey Stringer. Have you ever seen a center wave one of his hands to make a last-second line call? Tice developed that approach, and it's now copied around the league.
I have no doubt he'll continue Chris Williams' development and that he'll find a position and approach that will make Frank Omiyale a serviceable player. Although the Bears still don't have an offensive coordinator, they got better Friday by adding Tice.
The tough-guy coach finally landed in the tough-guy town. Just don't tell him that.