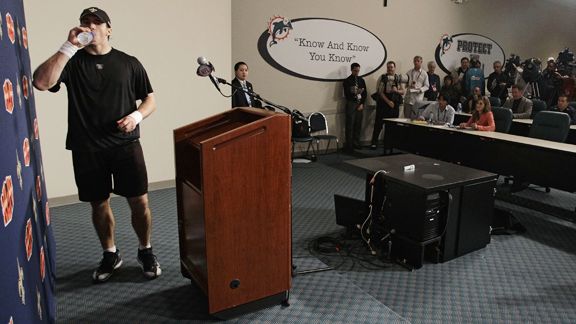 AP Photo/Mark Humphrey
On Monday in the Dolphins' media room, Drew Brees reflected on how he almost signed with Miami in 2006.DAVIE, Fla. -- Drew Brees stood under a Miami Dolphins logo Monday and talked about playing in the Super Bowl.
Funny, but that's exactly how it was supposed to be just about four years ago. It's funny, but just about everything about Brees and Super Bowl XLIV is soaked in irony several times over.
It was totally by accident that Brees wound up talking in the auditorium at the Dolphins' practice facility Monday evening. The Saints arrived at Miami International Airport near noontime and were supposed to have a practice at the University of Miami.
But heavy rains ruined that and left the league and the Saints scrambling for alternatives. They wound up calling on the Dolphins, who have a practice bubble at their complex.
"That bubble wasn't here when I was here, but everything else brought back memories of that free agency period and 2006,'' Brees said.
Brees almost landed with the Dolphins, instead of the Saints. History might have been altered on many levels when Brees made that decision back in 2006. Had it gone the other way, maybe Nick Saban still would be coaching the Dolphins, maybe the Saints still would have Aaron Brooks and a losing record and nothing else going for them.
Truth be told, the Dolphins were very much in the mix for Brees when he was a free agent coming out of San Diego. The Chargers had turned Brees loose because he had surgery on his throwing shoulder and they already had Philip Rivers waiting to take over.
There's a story that's been told for years about how Saban called Brees at 12:01 a.m. on the day free agency started. Turns out that's not true.
"He probably called me before that,'' Brees said with a laugh.
Saban's free and clear from a rules violation because he's back coaching in college after a disappointing tenure with the Dolphins.
It's almost laughable now, but the Dolphins and the Saints really were the only teams showing any interest in Brees back then. Brees has talked before about how the Dolphins told him their medical personnel thought there was only a 25-percent chance of his shoulder being healthy enough to play in the NFL again.
He didn't go through that story on Monday and had nothing but nice things to say about the Dolphins, in addition to the Saints.
"I have great respect for both organizations,'' Brees said. "In the end, I felt New Orleans was my calling, not only to play football but to help that whole region rebuild. It goes way beyond football.''
You can't argue that Brees' decision was wrong on any level. He's taken a franchise that has been downtrodden through most of its existence and put it in the Super Bowl for the first time in its history.
Yes, Brees could have signed with the Dolphins and hung out on South Beach. He probably could have gotten a huge contract even though there were no guarantees his shoulder would be fully healed. He could have been with a franchise that's had its share of success through the years.
He passed all that up for a franchise that didn't even know for certain if it would be returning to New Orleans. He passed all that up to live in a region that had been destroyed by Hurricane Katrina.
Despite all the things New Orleans lacked at that time, Brees was sold on one thing. That was owner Tom Benson, general manager Mickey Loomis and then-new coach Sean Payton all telling him firmly that he would be their franchise quarterback if he came.
"They really believed in me when no one else did,'' Brees said. "They had as much confidence in me as I did in myself.''
Brees is loaded with confidence these days. That's what happens when you're a quarterback who's been in a Payton offense for four years and everything's coming together for you. Brees was so comfortable early in the morning that he and some other teammates who came to Miami early for the Pro Bowl dressed up as bellhops to greet the rest of the Saints when they checked into the team hotel.
Put Brees in a bellhop's uniform or a Dolphins uniform and it just wouldn't be the same. Brees has been the perfect quarterback for the Saints on the field and the perfect face of the organization for the entire Gulf region.
Back when Brees signed with the Saints, Payton was struggling to hire assistant coaches because many were leery of the uncertainty surrounding the team. Other free agents stayed away and the team clearly was starting from scratch after going 3-13 in former coach Jim Haslett's final season.
"Obviously, I'm where I belong,'' Brees said.
But here's the really ironic part about it all: This is what Brees imagined when he chose to sign with the Saints over the Dolphins. When everyone else looked at New Orleans and saw disaster and disarray, Brees saw an opportunity.
It's an opportunity he still is working on.
"I feel like it's a big responsibility for me being here,'' Brees said. "I feel like I've been given a special platform. The city of New Orleans has fully embraced me and my wife and what I want to do is reward the city with a championship.''
Standing in the way is another New Orleans icon. That's Indianapolis quarterback Peyton Manning. He's a New Orleans native and the son of Archie Manning, who easily was the most popular quarterback in Saints' history, until Brees came along. Ah yes, even more irony here.
"That's exactly the trap that I'm trying not to fall into, which is trying to keep up with Peyton,'' Brees said. "I know that Peyton is going to make his plays and he's going to be Peyton. That just means that I have to be me. The game has always been within reach. It doesn't matter what the situation is. It's me and my offense against their defense and vice versa. Certainly I have a lot of respect for Peyton and what he's been able to accomplish and what their team has been able to accomplish. But it's not me against Peyton Manning.''
Maybe so, but maybe not. At least in New Orleans these days, Brees is even bigger than anyone with the Manning name. It may not be that way on a national stage yet because the one knock on Brees is that he's never won a Super Bowl. His name usually comes third in conversations about elite quarterbacks, behind Manning and Tom Brady.
But maybe all of this and Brees standing back in the Dolphins complex for the first time in four years was all part of the plan he put into action in 2006 when he signed with the Saints. Maybe it was all meant to work out just the way Brees saw it.
Even Monday's heavy rains and the move indoors seemed to play right into Brees' story.
"It is what it is,'' Brees said. "You weather the storm and we know how to do that.''
Weathering the storm just might be what Brees, the Saints and the whole Gulf region do best.