MIAMI -- One of the biggest stories of Super Bowl week so far actually dates back to last week. That's when New Orleans defensive coordinator Gregg Williams made some comments to radio host and former NFL player Blaine Bishop about putting some "remember me'' hits on Indianapolis quarterback Peyton Manning.
Williams said he was surprised by the aftermath.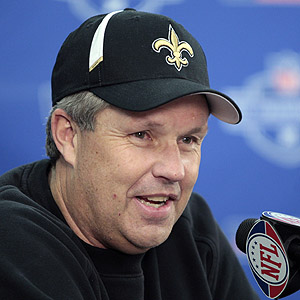 AP Photo/Bill Haber
Saints defensive coordinator Gregg Williams was still feeling the after-effects of his comments last week Tuesday at media day."In all honesty, it was really kind of a tongue-and-cheek thing with Blaine Bishop,'' Williams said Tuesday at media day. "When Blaine played for me, he was that kind of player. One of the things I worried about Blaine, whenever he would get mad, for the next three or four plays he would abort all coverage, he would abort all responsibilities and just go take it out on the opponent. I would ask him, 'What are you doing?' and he would tell me, 'Giving him some remember me shots.' We were joking about that and what he said was, 'You got any remember me's in you this week?' I said, 'Who knows? That could come up.' It kind of got blown out of proportion, but in all honesty, every single time you play you have that.''
Give Williams some credit for not backing away from the comments and for continuing to be honest when facing the national media.
"I was a little surprised that it took off, but in that respect it didn't bother me because it's true,'' Williams said. "I do believe that. I do believe that I want our players to play hard. I don't want them to have any apologies. I tell them all the time… I told my kids when I was the head coach of the Buffalo Bills, 'I don't ever want you to apologize to anybody at any time about being a competitor. When you have to apologize about being competitive, I'll be down there at the principal's office. I'll go down to the school board. I'll go to whoever I need to,' because that's what pushes our life. That's what pushes successful people. They want to compete and the fact that you're going to be competitive and be tough about doing those things, I don't know what I should have said. Maybe I should have said that we're going to blow him kisses or send him a Valentine Day card or something like that. I don't know that that would have been the right message to send the defensive guys that I have."
Williams said Bishop is more upset about the incident.
"Blaine is texting me and called me a couple times apologizing thinking I may be dog cussing him about it,'' Williams said. "I said, 'Blaine, don't worry about that. That was just you and I having a good time on the radio.'"
Williams said the comments didn't get him any trouble with New Orleans coach Sean Payton. But he did admit Payton jokingly sent him a gift for breakfast Tuesday morning.
"The poor waiter came over to the table at brunch this morning and gave me two big jars of peanut butter, saltine crackers and a glass full of sand to wash it down with,'' Williams said. "Maybe if I took all that stuff down I might be able to keep my mouth shut and not say something at media day that will haunt him all week long like I did last week."