MIAMI -- Three nuggets of knowledge about Super Bowl XLIV between the New Orleans Saints (15-3) and Indianapolis Colts (16-2):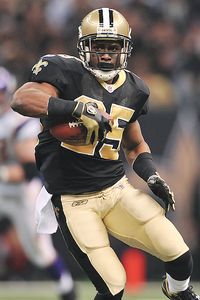 Larry French/Getty Images
A strong Super Bowl performance could be key to Reggie Bush's future with the Saints.
1. Could this be Reggie Bush's final game with the Saints? There's already been a lot of speculation about this and it's understandable because Bush is scheduled to have an $8 million salary and a hit of more than $12 million against the 2010 salary cap. Lots of people have said that's too much money for a guy who's nothing more than a role player. But the Saints never have said anything along those lines and they view Bush as more than a role player. He's the first player Sean Payton ever drafted and there's an emotional attachment to Bush. Let's be real honest here, Payton views himself as a brilliant offensive mind -- and I'm not arguing with that -- and he believes he can get production from Bush as a runner, receiver and a return man. A big game from Bush in the Super Bowl might further enhance his chances of staying with the Saints.
2. Gregg Williams was the missing link. Once upon a time, Gregg Williams was viewed as one of the league's greatest defensive minds. That was before he got a shot as a head coach and had a couple of ordinary stints as a coordinator. But this is Williams' chance to re-establish himself among the elite. Yes, he's got a mighty challenge against Peyton Manning and the Indianapolis offense. But Williams made this New Orleans defense respectable almost since the day he arrived. He's a big reason the Saints are in the Super Bowl. If they're going to win it, Williams might be the most important figure of all.
3. Marques Colston will emerge. Colston's been New Orleans' top receiver pretty much since he entered the league in 2006, but he's still not a household name. This is Colston's chance to change that. At 6-foot-5, he's tough for any defensive back to match up with. The Saints haven't needed to really lock in on Colston because they have such a variety of offensive weapons. But in a winner-take-all setting, it might be time for the Saints to really exploit Colston's height advantage.