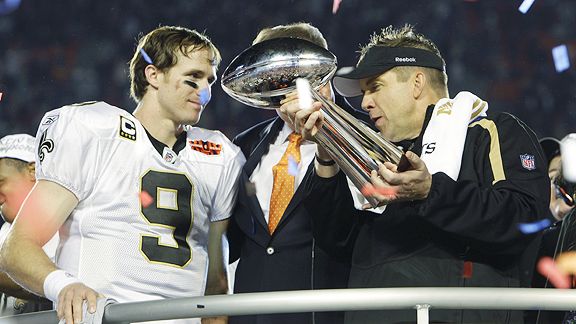 AP Photo/Paul Sancya
NFC North teams might be able to learn a few things from the Super Bowl-winning New Orleans Saints.Before we launch ourselves full-bore into the offseason, I think it makes sense to take a look back at Super Bowl XLIV to provide some guidance for NFC North teams. What lessons can we learn from New Orleans and Indianapolis advancing to the final game of the season?
Let's look at that question in alphabetical order. We won't force it, so for each team I'll choose either the Saints or the Colts for guidance:

A pressing issue: A defensive approach that has slipped from feared status to one that seems stale and passive.
How New Orleans addressed that problem: By hiring defensive coordinator Gregg Williams, knowing he would shake up and energize a group that was similar to the 2008 Saints with the exception of safety Darren Sharper.
Williams described that attitude change thusly: "It was a culture shock to them from the very first meeting. My aggressive demeanor in the meetings, making them defend themselves with explanations and demonstrations on the field. Every single time we stepped on the field of play in practice, it's been a game. We had to turn that scout team mentality there on defense.
"I've joked with [Saints coach Sean Payton] about this, because a lot of times offensive head coaches want the defense to play scout team in practice. You don't get better on defense that way. You get worse on defense that way. We had to attack our offense. We had to challenge our offense, and we made our offense better because they had a tough time dealing with us this spring.
"I tried to break their spirits and make them do physically unbelievable things from up-downs and running sprints and all these things for semi-attention deficit disorder mistakes they were making. It made them stronger. When things don't break you in times of easiness, then they find out they become stronger later on.
"I tell them all the time, 'When you bleed more in times of peace, you're going to bleed less in times of war.' They kind of paid the price in minicamp, OTAs and training camp. It was remarkable to see the leaders come back and say, 'We want more.' When they started that swagger and attitude back at me, I knew I had them. Now I have to manage them, and that's not easy. Our motto has been: 'Live on the edge, play on the edge, never hurt the team.'"
The Bears have already assigned Rod Marinelli their defensive coordinator duties. Marinelli won't change the Bears' scheme, but he would be well-advised to find a way to shake up the complacency that seems to have settled over Chicago's once-proud defense. He has the kind of fiery personality to do so.

A pressing issue: A defense that gave up a staggering 392 yards per game in 2009.
How the Saints addressed it: By making turnovers the great equalizer. For as much as Williams' defense was celebrated this season, it still gave up an average of 357 yards per game during the regular season. That ranked No. 25 among all NFL defenses.
Those totals actually got worse in the playoffs, where opponents averaged 422 yards per game.
But this season, the Saints balanced that yardage by nearly doubling their takeaway total from 2008. After causing 22 turnovers that season, the Saints created 39 takeaways in 2009. They caused eight turnovers in the playoffs.
That trend was no accident. Williams expected players to take risks to create those turnovers. "If you're afraid to jump routes, if you're not willing to play aggressively that way, you're not going to make it," he said.
The Lions ranked No. 25 this season with 23 takeaways, including only nine interceptions. There's no doubt they need to elevate their talent level on defense. But encouraging players to take more risks would help cover for that deficiency. They would probably give up some big plays if the risks backfire, but they were already doing that. What is there to lose by taking more chances given that dynamic?

Green Bay Packers
A pressing issue: An aging offensive line that includes probably two players -- left guard Daryn Colledge and right guard Josh Sitton -- who seem locked into starting roles in 2010. That leaves three open spots, although Jason Spitz could return as center if his back is healthy.
How Indianapolis addressed it: The Colts made a change at left tackle, sliding in Charlie Johnson to replace Tony Ugoh. But to me, the lesson of the Colts is that they didn't do enough to solidify their line and ultimately paid for it in the Super Bowl.
As my AFC South colleague Paul Kuharsky noted, the Colts' failure to convert key 3rd-and-short situations proved critical in the playoffs during the past two seasons. Kuharsky notes the Colts might want to re-think their approach to building their offensive line as 2010 approaches.
The Packers could share in that lesson. Their first order of business: Develop a depth chart that avoids using starters as the primary backup at another position. As they learned last season, moving Colledge to left tackle when Chad Clifton was injured weakened two positions.
Their second task: Find a long-term answer for at least one of their two tackle positions. Clifton and Mark Tauscher are both free agents. Even if both are re-signed, planning needs to accelerate for their eventual replacement.

A pressing issue: The conflict between their fundamental desire to run the ball and the current state of the NFL as a pass-happy league.
How the Saints addressed it: By falling into a much more balanced pattern than most people realize. The Saints increased their rushing plays by about 15 percent and decreased Drew Brees' passing attempts by about 20 percent during the regular season. The Saints, in fact, ranked No. 15 among all NFL teams in passing attempts.
I know I argued several times during the season that the Vikings should recognize their offense had trended toward the passing side, and ride it as far as they could in the playoffs. But based on the way the Vikings are configured, I don't see that as a good long-term solution.
The Saints provided a paradigm for balance even while recognizing their strength as a passing team. Who would have guessed the Saints would have more running plays and pass fewer times than the Vikings?
But that's exactly what happened in 2009, and the Vikings would be wise to re-center themselves a bit for the long-term.
Even if quarterback Brett Favre returns, is it reasonable to expect another career year from him? Like the Saints in 2009, the Vikings' offense would be better in 2010 if they need to throw a few less times because their running game has offered a more viable alternative.