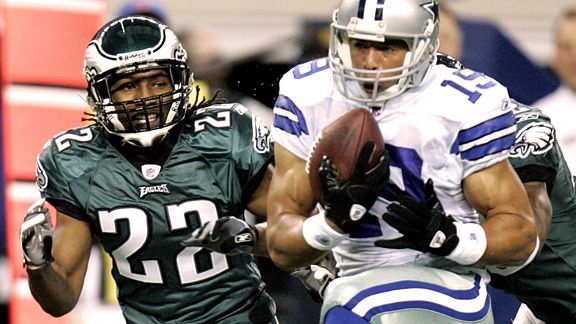 AP Photo/Mike Fuentes
The Eagles Asante Samuel may be a Pro-Bowler, but he's not exactly a "shut-down corner."It's been more than a month since the Eagles' season ended in Arlington, Texas, but we've been able to mention the Donovan McNabb situation on a daily basis. It's one of the most compelling storylines of the NFL offseason, but it's not the most important issue the organization is facing.
If the Eagles don't fix their defense, it really won't matter whether it's McNabb or Kevin Kolb behind center. I've already ruled out Michael Vick as the starter despite at least one report that the Eagles are just dying to pay the man his $5 million in 2010. (Since Vick is hosting at least seven NBA All-Star parties in Dallas this weekend, I'll try to catch up with him.)
The Eagles failed spectacularly in December and early January, in part, because they had no answers for Tony Romo, Miles Austin, Jason Witten and Felix Jones. You can blame it on the departure of Brian Dawkins, a season-ending injury to middle linebacker Stewart Bradley or the death of defensive coordinator Jim Johnson. But the Eagles weren't the only team in the league to face adversity in '09.
The club can't afford to obsess about the quarterback position this offseason at the expense of the rest of the roster. There's simply too much work to be done on defense. Eagles president Joe Banner told the club's Web site earlier this week that he didn't think the gap between the Eagles and Cowboys was as wide as those final two games indicated. And that sort of sentiment should scare the hell out of Eagles fans.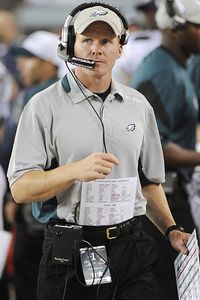 Howard Smith-US PRESSWIRE
Coordinator Sean McDermott's Eagles defense needs to find some answers in the offseason.Sean McDermott's defense had no hope against the Cowboys because there was not a single player who could match up with Witten. Assigning linebackers such as Will Witherspoon and Moise Fokou to cover Witten is an absolute farce. Even if the Eagles accounted for Witten, it just opened things up for Austin and Crayton across the middle.
The return of Bradley will certainly help the Eagles' cause but this defense isn't one player away from making noise in the playoffs. Everyone wants to talk about letting Dawkins get away, but I'd argue that the lack of depth at cornerback is just as big of an issue. You have to admire Sheldon Brown for playing through pain on numerous occasions, but that doesn't cancel out the fact that he was a liability at times.
Asante Samuel will always go to Pro Bowls based on his gaudy interception totals -- and those are important. But Samuel's reluctance to make contact with ball carriers will continue to be a sore spot with coaches and fans. Let's not act like Samuel's a so-called shut-down corner. I'm pretty sure Deion Sanders was the last man to fulfill that role. Samuel is one of the biggest gamblers in the game, which makes the Eagles susceptible to the big play (Austin on the sideline).
I know it's fashionable to talk about taking the "best player available" in the draft, but the Eagles better make sure that player can cover a wide receiver. Who do you guys trust in the Eagles' secondary? I still think Quintin Mikell's a quality player, but he was exposed when he had to line up next to inferior talent.
I think the Eagles would be wise to either trade for a veteran safety or find one in free agency, like the Cowboys did with Gerald Sensabaugh last March. Sean Jones certainly wasn't the answer last offseason and Quintin Demps is firmly entrenched in Andy Reid's doghouse. I think it's extremely difficult to ask a rookie to make an immediate impact at the safety position because of its complexities.
The Eagles were so desperate in the secondary at one point this season that they signed a former Mr. Irrelevant who couldn't stick with the Detroit Lions. I would identify the best two or three cornerbacks in this draft and try to get one of them at No. 24. I know you're not exactly set along the offensive line but teams such as the Colts (and even the Eagles) have shown that you can find starters in the later rounds.
Then there's this little thing about finding another pressure player to take some heat off defensive end Trent Cole. And for the record, I don't think it would be wise to dump a bunch of free-agent money into signing Panthers defensive end Julius Peppers, who might be asking for Albert Haynesworth money, which sounds ludicrous to me. Haynesworth, who is a couple years younger than Peppers, signed a contract that included $41 million in guaranteed money.
There's no chance I'd make that type of commitment to Peppers, who had 10.5 sacks for a bad Panthers team in '09. The Eagles spent roughly $30 million on defensive end Jevon Kearse before finally cutting their losses following the '07 season. Kearse was younger than Peppers when he arrived in Philly and he was an enormous disappointment even before a season-ending knee injury in 2006.
The ubiquitous scout turned broadcaster/writer Mike Lombardi has suggested the Eagles trading backup quarterback Kevin Kolb for Browns defensive tackle Shaun Rogers. And isn't a 31-year-old defensive tackle with a checkered past exactly what the Eagles need to finally win a Super Bowl?
No, I'm afraid there won't be a lot of shortcuts available in trying to catch up with Wade Phillips and the Cowboys. Andy Reid and his new boy wonder general manager Howie Roseman are going to have to close the gap via the draft. The Eagles have obviously hit big on offensive players such as DeSean Jackson, Brent Celek and Jeremy Maclin in recent drafts.
Now, they desperately need to rebuild a defense that seemed to become old and slow overnight. Or maybe you agree with Banner in that those two blowouts at the end of the season were an aberration.