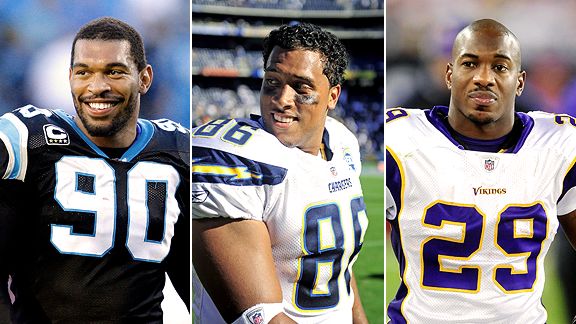 US Presswire
The Bears have been wheeling and dealing in free agency, landing Julius Peppers, Brandon Manumaleuna and Chester Taylor.Wasn't it only a couple of months ago when we were arguing whether Chicago was too, uh, financially conservative to fire coach Lovie Smith and pay an $11 million buyout? (I believe the urban dictionary would refer to it as "cheap.")
We have now passed into another world. Friday, the Bears guaranteed roughly five times that amount to three veteran free agents in a frenetic attempt to reverse their recent fortunes. As we discussed Thursday night, free agency was the Bears' only option for making impact additions this year thanks to a draft gutted by trades for quarterback Jay Cutler and defensive end Gaines Adams.
But unlike the mixed message they sent by retaining Smith, the Bears have made no secret of their willingness to pay a premium price for the best available players at their respective positions. Tight end Brandon Manumaleuna received $6 million in guarantees to serve as a blocking tight end and tailback Chester Taylor got $7 million guaranteed even though he isn't likely to start.
And the centerpiece of Chicago's free-agent haul is defensive end Julius Peppers, who will get about $40 million in guarantees to provide what the Bears hope is consistent double-digit sack totals for the foreseeable future.
Peppers played on both sides of the defensive line in Carolina and could fit anywhere with the Bears. I don't have to remind Minnesota fans how he destroyed Vikings left tackle Bryant McKinnie in a December game last season, and as of Friday it's not clear who he would match up with in Green Bay. Via Twitter, incumbent right end Alex Brown called Friday "a great day" and added: "The [B]ears defense will be tough."
As Dan Pompei of the Chicago Tribune soberly pointed out, the Bears still need to find a way to improve their personnel at safety. I'm not willing to say Peppers will single-handedly solve their defensive woes over the past few years. But with the expected return of middle linebacker Brian Urlacher and the confidence that's provided when a premier pass-rusher is on the field, the Bears have the potential to be much improved.
We're not even 24 hours into the NFL's first foray into uncapped free agency, and already it's clear the Bears will be the league's big spenders. How many of you would have believed that a few months ago?