ORCHARD PARK, N.Y. -- Dwan Edwards thought he would be on the free-agent market for 48 hours tops.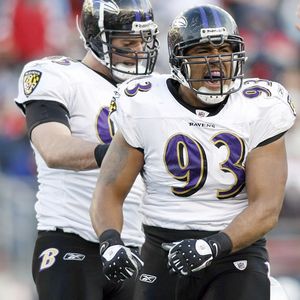 Greg M. Cooper/US Presswire
Bills defensive end Dwan Edwards is determined to prove himself on the field after being passed over in free agency.Two days turned into nearly two weeks. The former Baltimore Ravens defensive end visited the Seattle Seahawks and Denver Broncos, but both teams were bothered by concerns stemming from spinal fusion surgery he underwent in 2008.
"They had some issues with the neck," Edwards said. "I thought I'd be signed quick."
As his frustrations mounted over being labeled "damaged goods," he became more anxious about finding a team. The first one to give Edwards the OK was going to get him.
The Buffalo Bills saw no reason to worry and signed him to a four-year contract worth a reported $18 million.
Now Edwards' mission is to be a pain in the neck for opponents.
"They're getting a great player," Edwards said Wednesday afternoon at One Bills Drive. "I'm glad they took a chance on me.
"It motivates me, definitely, that teams dropped interest. I'm looking forward to getting back on the field with some of these teams."
Edwards injured his neck in a 2008 preseason game and was placed on injured reserve. He underwent a procedure to remove a disk and insert one from a cadaver. His C3 and C4 vertebrae were fused.
The physician to examine Edwards for the Bills was Dr. Andrew Cappuccino, who performed the emergency surgery on former Bills tight end Kevin Everett in 2007. Everett suffered a life-threatening spinal cord injury in the season opener, but cutting-edge procedures at the scene helped him miraculously regain his ability to walk.
"I'm coming off playing 18 games, and I played well," Edwards said. "It definitely was a frustrating free-agent period, and to get that label ... There's nothing you can do about it, but I know I can play."
Edwards started 13 games in 2007, missed 2008 with the injury but opened last year as a reserve. He reclaimed a starting spot in Week 6 and kept it for most of the year. He started nine regular-season games and once in the playoffs.
Edwards recorded 50 tackles and one sack in the regular season. He added nine tackles and one sack in Baltimore's two playoff games.
He agreed to terms the same day as inside linebacker Andra Davis, giving the Bills their first two acquisitions since announcing they would convert to a 3-4 defense.
Edwards admitted "3-4 end is not a glamorous position. You're not going to get a lot of sacks and whatnot, but the guys that can play it right are really key, especially if you're going to be successful running a 3-4.
"It's a physical, nasty, dirty spot. You take on double teams and get cut [blocked] and all sorts of stuff. To be successful, you're going to be holding up blockers for Andra Davis and those guys, who are free to the ball and can make a lot of tackles.
"They told me they needed me to be an integral part. That's all you can ask, to feel like you're wanted and to be a part of something special."
Edwards is coming from a locker room dominated by linebacker Ray Lewis, outside linebacker Terrell Suggs and safety Ed Reed. But Edwards acknowledged he'll need to take on more of a leadership role with the Bills.
"You kind of take a back seat in Baltimore with all the great leaders we had," Edwards said. "But I think I really could be that guy. I don't want to come in here and start barking orders at guys. That's not my personality. But I think I'll show people the way I work and prepare. Hopefully, that can rub off on some young guys and I can pick up some things from them."