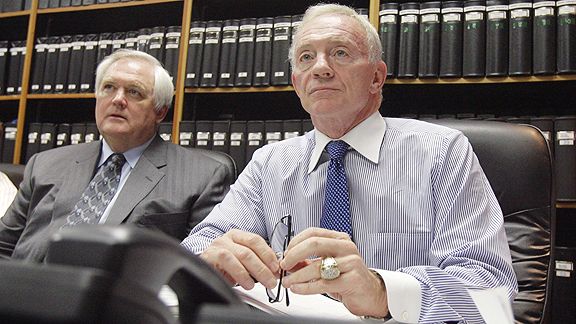 AP Photo/Matt Slocum
The decisions Jerry Jones, seen above with coach Wade Phillips at Valley Ranch during the 2008 draft, makes in the draft later this month will say a lot about the futures of Cowboys Flozell Adams and Ken Hamlin.It's important to read between the lines when Jerry Jones is talking because what he's actually saying doesn't always make a lot of sense. A lengthy non-answer to my recent question about the futures of left tackle Flozell Adams and safety Ken Hamlin told me everything I needed to know heading into the draft.
Jones refused to guarantee either player a roster spot in 2010, which leads me to believe he'd at least consider moving on without one or both of them. The Cowboys liked what they saw from Doug Free when he filled in for injured right tackle Marc Colombo last season. As only he can, Jones explained that Free's a little more "left tacklish than right tacklish," which is to say he has excellent feet and operates well in space.
Jones believes that Free's capable of being the full-time starter at left tackle, and he confirmed that during the recent owners meetings. But does that mean he's ready to release a perennial Pro Bowl player in Adams to launch the Free Era? It's one of the biggest decisions Jones will make this offseason, and the upcoming draft should offer us some clues on how he'll proceed.
The Cowboys need to add more quality depth to the offensive line. Offensive tackle Robert Brewster, a third-round pick in '09, is returning from a torn pectoral muscle that he suffered while lifting weights. There's a decent chance the Cowboys will draft an offensive lineman in the first or second round because this line's starting to show some age. Left guard Kyle Kosier's entering the final year of his contract and right guard Leonard Davis turns 32 in September.
If the Cowboys can create enough depth along the offensive line, they may part ways with Adams, who collects false starts and fines at an alarming rate. Jones also mentioned the fact that Davis is capable of sliding over to left tackle, although I think that's a stretch at this point in his career.
Adams, who turns 35 next month, is due a $2.5 million roster bonus in June and his base salary for 2010 is $5 million. That's why Jones has a little breathing room before he has to make a decision.
"We just have not addressed decisions of that nature," Jones said at the owners meetings. "Mulled them over, but just haven't addressed it. Haven't had to. It's not been compelling. As we get closer to OTAs, as we get a read on how we do in drafting. When all of that comes to bear, then we'll make some decisions if we've got to basically make room, so to speak."
I don't think that statement is good news for either Adams or Hamlin, who is scheduled to make $5.59 million in 2010. That's a huge salary for a player who's turned in back-to-back average seasons. In recent weeks, sources with the team have expressed to me their excitement over second-year safety Michael Hamlin (no relation). There's a belief that Hamlin has the instincts to turn into a playmaker at safety. That said, it would not surprise me at all if the Cowboys selected South Florida safety Nate Allen at No. 27 overall.
The Cowboys like Allen and Rutgers cornerback Devin McCourty at that spot. Now if an offensive tackle such as Bruce Campbell starts to slip, which could totally happen, the Cowboys will have an interesting decision to make. I think they'd lean toward taking one of the defensive backs. And regarding all this speculation about the Cowboys moving up to take wide receiver Dez Bryant, the folks I've spoken to at Valley Ranch don't see it happening.
But pay close attention to what the Cowboys do in the first few rounds. It should be a pretty good indicator of what's going to happen with Adams and Hamlin.
"They're on the roster and [we] have not made a decision as to them not being on the roster," said Jones. "And have not given any more consideration there at this time than you have just your overall roster. So you could get some bad information at this juncture if you said somebody said they're not going to be with you. It's just speculation, using the logic of what's caused them to be at issue anyway."
So does that quote pretty much clear things up for you guys? No?
The bottom line is that Jones' refusal to give either player his endorsement is pretty revealing.