How much significance should we place in recent public optimism surrounding Minnesota's stadium effort?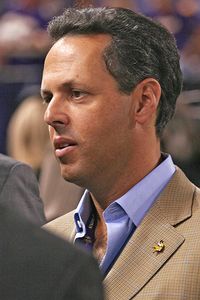 Icon SMI
Vikings president Mark Wilf recently indicated he was optimistic a new stadium deal would get done.To rave reviews, the Minnesota Twins formally opened the sparking, $530 million Target Field on Monday. Unfettered public excitement about the structure has turned some attention to whether the Vikings can duplicate the Twins' feat: Secure public financing from an electorate that opposes tax subsidies for stadiums, according to multiple polls.
Team president Mark Wilf raised some eyebrows last week by telling a group of business leaders that "we feel something will get done this session." And in this team-produced video, Vikings vice president Lester Bagley said: "We think we're poised to get in position to resolve" the issue.
Could this really be the case? After more than 10 years of political battles, could the Vikings ride the Twins' momentum to an agreement?
Let's put it this way: If substantive progress has been made, it's happened behind closed doors and with no details emerging into the public debate. There have been reports of private meetings to consider financing proposals that would cover about 70 percent of the $870 million the Vikings say they need to replace the Metrodome, a development that has outraged stadium opponents. It would take an awfully creative proposal to generate $600-plus million without raising taxes on some level.
Those tax revenues would funnel to a stadium while state leaders cut costs elsewhere to balance a $994 million state budget shortfall. Can such a controversial event be squeezed into the final four weeks of the 2010 session? Suffice it to say, it would not occur without opposition.
The Vikings' lease expires after the 2011 season, but without viable threat in Los Angeles or elsewhere, it's hard to imagine politicians acting with the urgency team officials are requesting on this issue.