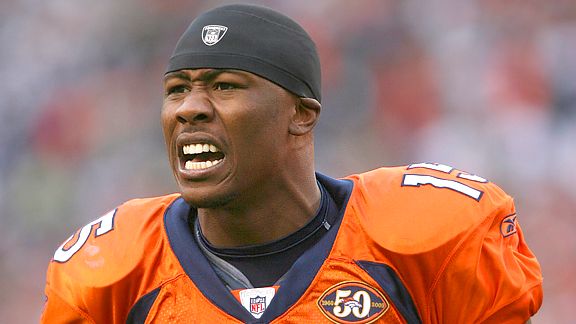 Tom Hauck/Getty Images
It was best for both the Broncos and Brandon Marshall to trade the wide receiver out of Denver.Hours after the Denver Broncos took a big kid from a small program in the 2006 draft, I spoke to an assistant coach on the team's staff.
Without prompting, the coach said: "That receiver we got in the fourth round is a superstar, but he's trouble. We have to hope it works."
Three months later, Brandon Marshall, that perfect-looking receiver from Central Florida, looked like a 10-year Pro Bowl performer in his first NFL training camp. At 6-5, 230 pounds, the kid looked like he should have been the No. 1 overall pick, not a second-day selection. I asked another Denver assistant coach if I was simply being an impressionable layman or if what I was witnessing on the field was as amazing as I thought.
"The kid is brilliant. He's just brilliant. But I can't tell him that," the coach said. "We have to keep this kid grounded."
It never happened. The Broncos couldn't keep Marshall grounded. In the end, his troublesome tendencies outweighed his on-field brilliance. After four years of headaches, the Broncos had to part ways with Marshall. It wasn't going to change.
It didn't matter if Mike Shanahan or Josh McDaniels was his coach. Marshall was never going to combine off-field harmony with on-field dominance in Denver.
He had to go. It's been evident for a couple of years. That's why Denver has to rejoice with its trade of Marshall to Miami on Wednesday morning. The Broncos received Miami's second-round pick (No. 43) this year and second-round pick next year in the deal.
Denver originally wanted a first-round pick for Marshall, but that wasn't going to happen. Getting this package is great for Denver. The Broncos have to look at it this way: They got 327 catches in four seasons from a fourth-round pick and turned it into two quality draft choices. That's excellent production.
In an ideal world, Marshall would have played 12 seasons in Denver and gone into the Pro Football Hall of Fame -- he has that type of talent -- playing for just one team. But that was never going to happen. He was too volatile and too unhappy in Denver.
We know all of the issues. There was the domestic violence and drunken driving arrests, the involvement in an altercation before the shooting death of Darrent Williams, the disputes with coaching staffs and the team-sanctioned suspension last summer.
Marshall's fate in Denver became obvious when McDaniels suspended him for the season finale against Kansas City (with the Broncos in the playoff hunt) because he thought Marshall was milking a minor injury. When McDaniels publicly embarrassed Marshall and ruled him out of an important game, which Denver lost, it meant McDaniels was done with him.
There was just no way Denver could move forward with Marshall. He was a divisive presence in the locker room. Marshall gave Denver problems every year he was in town. It would have continued moving forward.
Marshall will be missed on the field. He is a terrific player. He has had more than 100 catches the past three seasons. He is top-five receiver in the NFL, a game changer and a matchup nightmare. But he's was not worth all the trouble in Denver. The team will no longer have to worry every night if Marshall is going to get in trouble or cause any problem the next day at the facility.
Denver is not a better team on the field today without Marshall. But eliminating him from the locker room takes away a major problem that was a heavier burden than his on-field ability was a blessing.
Denver had to rid itself of Marshall. It had no choice.